Athletes of the Week: November Edition
The month of November marks the transition between the last few games of the fall season and the beginning of the exciting winter season. Amongst the athletes that have partaken in the winter sports thus far, a select few have been recognized as exceptional athletes for the month of November.  These athletes have not only shown how much talent they have, but have also excelled in their incredible teamwork and sportsmanship.
Week of Nov. 3 – 10: Maurice Jones 
Sophomore Maurice Jones has proven to be one of the best sophomore running backs ever to play on the Cavalier Football team. He is an incredibly hard worker and always gets better at every game he plays in. He is an incredibly talented and youthful player who has an impeccable talent for making cuts as well as finding openings so that he can catch the ball.
His "Athlete of the Week" honor came from an incredible 205 rushed yards on 18 carries, three returns for 103 yards, and the scoring of three touchdowns that led Gables to a victory over Southwest with a final score of 21-6 points.
"Although he has a lot of room to grow, but he has gotten better at every game he has played in this year and we are looking forward to seeing him develop into potentially one of the best running backs in the country next year," Cavalier Football coach Aaron Miller said.
Week of Nov. 10 – 17: Iliana Ravelo 
Having started swimming when she was only ten years old, junior Iliana Ravelo has had a fiery passion for the sport ever since. Having joined the swim team in her freshman year, Ravelo has learned the value of hard work during practice, as well as the importance of a strong bond between teammates.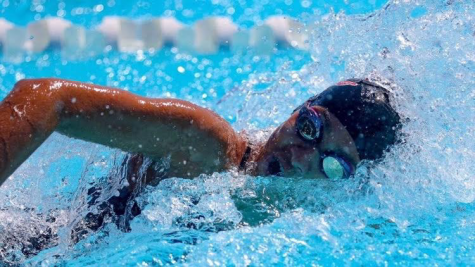 Iliana had an incredible season, and it was one in which she qualified for State Championships with her first place 100 meter freestyle and 50 meter freestyle victories at Regionals. While her practice schedule was extremely difficult to maintain, it brought her closer to some of the newer members of the team. Although she did not perform as well as she originally hoped at States, she was still extremely happy to have accomplished her yearly goal of qualifying for the competition.
"My favorite part of swimming has been getting to meet some really kind and genuine people. I have also learned that the only way to achieve my goal is to work hard and swim harder," junior Iliana Ravelo said.
Week of Nov. 17 – 24: Luana Gomes 
Senior Luana Gomes has had soccer in her blood since she grew up playing the sport. She started her journey around four years old when she played in Brazil, where soccer is widely popular and loved. She wanted to have something to do after school, so she decided to join the Lady Cavalier Soccer team and emphatically enjoys being part of the team bonding that happens throughout the season.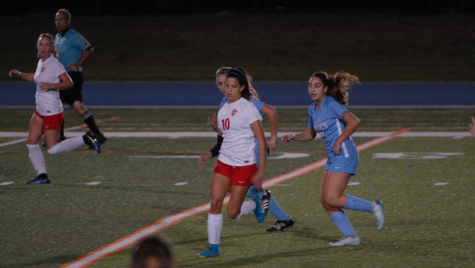 "I am very proud of the whole entire team. We have been performing so well and everyone is getting along well. That matters on the field because everything flows well," senior Luana Gomes said.
While she has scored 11 goals and had 2 assists so far this season, she is very much looking forward to the rest of the season, including winning Districts.
Week of Nov. 24 – Dec. 1: Madeline Cohen
Junior Madeline Cohen found her passion for basketball when she was in third grade. She played during middle school, at George Washington Carver Middle School, and she continued to play through high school, and truly enjoys how supportive and positive everyone on the team is.
"Everyone is so supportive of one another. Whether a shot is made or missed, we all cheer each other on," Madeline Cohen said.
According to Cohen, the 2019-2020 lineup is very strong, giving them the ability to go far this season. So far, she has 19 points, 11 rebounds, and 10 blocks during this season.
Unfortunately, at their third game against St. Brendans, she broke her ankle. She will not be able to come back to the court until January, but that does not keep her from going to the practices and games to support her team. The Lady Cavalier Basketball team has been working hard on strengthening their offense and defense, and they have been seeing these efforts pay off through their six wins, four home of which are at home. Cohen is certain that they have a good chance at winning districts, and when they do, she will be there right beside her team cheering them on.
---
All of the athletes mentioned have worked extremely hard for their recognition and to stand out enough to be recognized with "Athlete of the Week" honors. It is incredibly exciting to see what these athletes will bring forth later on, as the season progresses. Until then, make sure to congratulate these student-athletes for their efforts up to this point, and wish them luck throughout the remainder of the season.