Into the Winter: Cavalier Sports
After a magnificent fall sports season, the winter sports only bring so much more anticipation and excitement to the Cavalier community. With the upcoming sports season, student-athletes are able to showcase their talents and passions for three sports: basketball, soccer and wrestling. Already, teams have begun looking for roster candidates through tryouts and are off to a head-start on preseason conditioning.
As of this year, Coral Gables Senior High has been assigned a new district of schools to compete against, tightening the competition, and the new level of competition will only make the Cavaliers compete harder and make them better throughout the course of the year. Below is a brief preview into the three aforementioned  Cavalier winter sports and the goals each of them have as their respective seasons draw ever closer.
Basketball 
The Lady Cavalier Basketball team is ready to run it back for the first time since last year and, with girls' basketball being one of the most anticipated sports during the winter, the Lady Cavaliers have been working with their coaches and have been watching video highlights from last season's games to improve upon their stellar performance from last season. Most of their preseason conditioning has consisted of basic drills that make a huge impact on their game.
Junior Catherine Pasternac has been competing on the Lady Cavalier Basketball team since her freshman year of high school. However, she has been playing basketball since the third grade at Temple Beth Am, and she then joined her middle school basketball team before dribbling her way to the Lady Cavalier Basketball family. Upon joining the Lady Cavaliers, Patersnac has gained more confidence in her game, especially in her dribbling and shooting skills.
"Throughout the season, the girls' basketball team gets extremely close and we are all each other's biggest fan. No one is on this team to judge or humiliate you, but only to make you better and cheer you on," junior Catherine Patersnac said.
Like the Lady Cavalier Basketball team, the boys' team has begun their preseason conditioning and try-out sessions. Their conditioning has put the Cavaliers through more footwork and pick-and-roll drills than in previous years. The team's goal is to qualify for district championships, even though their sights are set on the highly coveted state championship title.
Sophomore basketballer Isiah Middleton fell in love with the sport at a very young age and decided that he would continue to pursue his dream of becoming a professional throughout high school. Middleton enjoys working behind the scenes and finds pride in the Cavalier basketball team's victories.
"My favorite part of being on the team has to be the victories that we've had together. Like all teams, we've had our ups and downs, but it's a really good feeling knowing that I'm part of a team that can win and lose together and still feel like winners," sophomore Isiah Middleton said.
Soccer
The 2019 Cavalier Soccer team has been actively participating in cross-training, as well as resistance conditioning during the fall season. The boys' team remains fairly intact, compared to last season's team, with the addition of younger Cavaliers who bring valuable talent to the field.
Senior Jason Wood is the current co-captain of the boy's varsity soccer team. Wood has been playing soccer since he was three years old, discovering his passion for the sport upon his first encounter with a soccer ball. Wood joined the Cavalier soccer team in his sophomore year, competing every season since then. He is a dedicated player who always takes time to make sure that his teammates are able to perform their best at practice and at their games.
"I've never been one to discourage my teammates and I always talk to my teammates and make sure that everything is going well for them at school. I've always given them positive motivations to try and remove anything that is holding them back or preventing them from performing their best on the team," senior Jason Wood said.
The Lady Cavaliers have kicked off their winter campaign earlier than usual. However, they are still working on their practice schedule in order to maximize the time they have to better themselves as a team.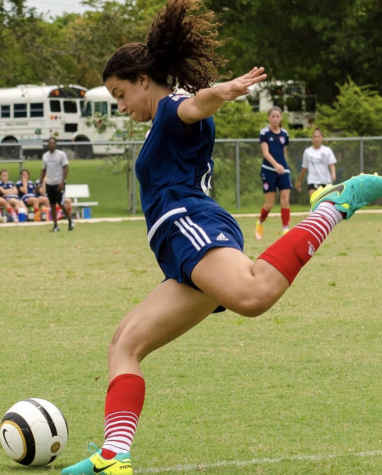 This year's co-captain Juliana Bonavita is excited and fully prepared to do all that she can do to try and get her team to Districts for the first time in ten years. She has been playing soccer since she was five years old, following in her father's footsteps.
Bonavita has learned many significant lessons from her experience on the team since her freshman year, including balancing her academics and traveling for her club soccer team, and even working with new people and personalities. She originally joined the Lady Cavalier soccer team in her freshman year with the hope of making it onto the varsity team.
"I really wanted to push myself and make varsity as a freshman because I heard that it was a really difficult feat to accomplish as a freshman," senior Juliana Bonavita said.
As the co-captain this year, Bonavita has big plans to help her team qualify for District Championships. She has dedicated her time to take the players into the weight room to demonstrate the proper technique for certain weight-training exercises.
Unfortunately, Bonavita has suffered two major knee injuries last year, which prevented her from playing soccer for an entire year. Her recovery was a long process, but after all of it, Bonavita has bounced back stronger than ever and is ready to face the challenges that this year's season will bring.
Wrestling
The Coral Gables Wrestling team is not one to be messed with, as their competitors will soon find out for themselves. The Cavalier Wrestling team has worked on several stretches and maneuvers over the preseason, which will help to improve their fundamental moves and basic techniques. The wrestlers take advantage of the in-school weight room to gain muscle mass and strength for the wrestling season.
Last year, the Cavaliers performed incredibly well, winning second place in the state championship wrestling match.
It is freshman Johnny Rodriguez's first year on the Cavalier wrestling team after he discovered his passion for the sport while watching Ultimate Fighting Championship (UFC). As he studied the mixed martial arts program, it suddenly clicked that wrestling was something he wanted to pursue. Rodriguez was motivated to join the Cavalier team as his passion for combat sports grew.
"My favorite part of being on the wrestling team is the family experience. All the other wrestlers treat me like I am their little brother. Our team is talented and I think we will perform amazing this season as I learn everything that I can on this team," freshman Johnny Rodriguez said.
---
The anticipation surrounding the winter sports season has rivaled that of the fall season. With new sports and new athletes taking the center stage, the Cavaliers are looking to build upon the momentum from the fall and cherish many more special moments and victories during the season. The Cavaliers look to make each season special and the winter season is the perfect opportunity to do it all over again.