Getting a Leg Up On the Soccer Season With Conditioning
As winter approaches, the soccer season for the Lady Cavalier Soccer team comes rolling in. To prepare the prospective team members for tryouts, conditioning for the girls has started early in the Cavalier weight room.
Soccer is a very intense sport that requires strength and stamina, so these early practices are meant to get players physically ready to perform exceptionally well throughout the season.
Coach Justin Aguirre and his father, Eddie Aguirre, are in charge of the girls' soccer teams. Together, they manage the conditioning sessions and practices. The workout sessions usually commence during the first week of tryouts. However, things are a little different this year.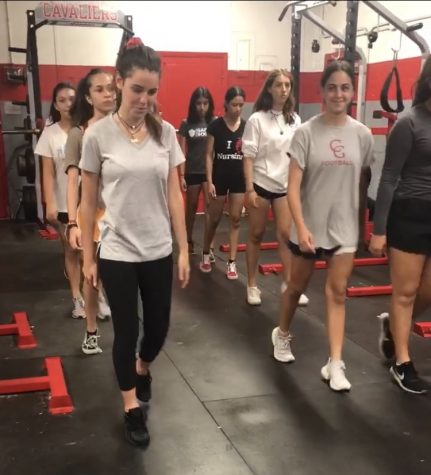 Instead of waiting for tryouts to begin on Oct. 21, Coach Aguirre decided to conduct pre-season conditioning much sooner. This is the first time that early practice sessions have ever been done at Gables.
"Conditioning early is a new thing that we have started this year at Gables High. We are so pumped," Coach Justin Aguirre said.
The girls currently on the team have already been conditioning for the past few weeks, dating back to when the fall sports season began, and it has really brought them together. This is important because they need to function as a unit once the team is picked. The early conditioning sessions also allow for an easier transition for the new girls that join the team. This way, they are comfortable with their teammates. 
"Conditioning has helped me get to know more people and to be more physically active. I really enjoy it and I highly recommend it to anyone," freshman Mariana Gutierrez said.
Every Monday, you can find the girls running on the track. They start off by running a mile just to warm-up. Then, the Lady Cavaliers run a 400 meter jog, a 200 meter sprint, and a 100 meter sprint in order to work on their speed. Throughout these runs, they will take a break from cardiovascular exercises and get into some calisthenic exercises.
On Wednesdays, the Lady Cavaliers hit the weight room. Here, they practice strength and resistance training to improve their physicality. Training in the Cavalier weight room is one of the best ways in which the girls can improve their chemistry.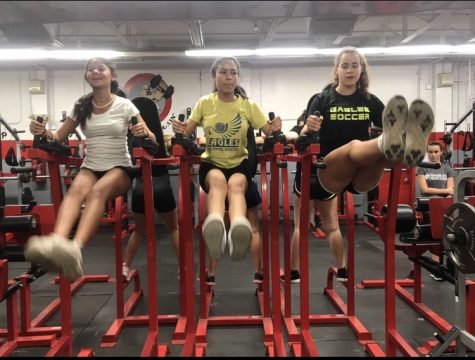 "All of the exercises and routines that we do help us improve not only physically, but more importantly, they help us come together as a team. We work really hard and I think that's the best thing you can do if you want to get better at something,"  freshman Mariana Gutierrez said.
These early practices go above and beyond when it comes to strengthening the Lady Cavalier Soccer teams. The girls are not only improving their physical endurance so that they can thrive during competitions, but also their communication skills, making the girls physically and mentally healthier. Without a doubt, their hard-working efforts will prove to be vital to their success against other girls soccer teams in the district throughout the upcoming season.