Cavalier Football: Setting the Record Straight
The Cavalier Varsity Football team has taken the fall season head-on, training non-stop and playing every game with unparalleled effort. The Cavaliers have come close to taking down some of the best teams in the district, but have come up short, winning just one of their first five games. However, a losing record could not faze them. Instead, the Cavaliers did what they do best: lift their spirits.
When the Cavaliers took on Mater Academy Charter's football team, they unleashed a wrath unlike ever before. The Cavaliers absolutely dominated Mater Academy, scoring a record-breaking 71 points while leaving their opponent scoreless.
Due to the team's losses to start the season, the football team viewed this massive win as a way to show that they still have a lot left to prove throughout the course of their season. Upon emerging victorious, the Cavs improved to a record of 2-4 on the season, moving a step in the right direction.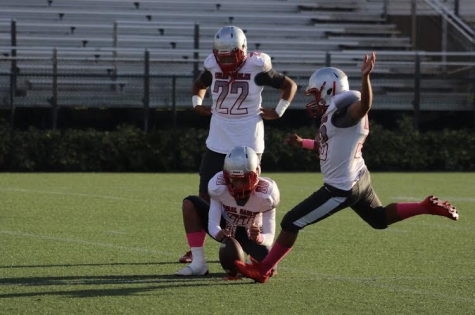 The Cavalier Football team has always shown the importance of determination, even when they have not always come out on top. While it cannot be denied, especially after their huge win over Mater Academy, that all of the players are extremely excited, but they are not satisfied yet.
"Hard work beats talent when talent does not work," Coach Aaron Miller said.
The showdown against Mater Academy gave light to the true talent of some of the Cavaliers on offense. Cavalier running back Maurice Jones scored three touchdowns and ran a total of 191 rush yards, quarterback Tyous Taylor covered 101 passing yards and made a total of three touchdowns and wide receiver Tamaris James made two receptions and reached the end zone once.
Overall, the Cavs covered 363 yards en route to a blowout victory. The Cavaliers also totaled 129 passing yards and 234 rushing yards that helped propel them to victory and silence their doubters.
"I wasn't surprised when we broke the record because our team works hard and plays even harder," sophomore Darren Mcqueen said.
Having achieved this tremendous feat is just the beginning for the Cavaliers, and there is still a lot of work to be done. While breaking the single-game point record is incredible, the Cavaliers are still looking to be the best version of themselves that they can possibly be and contend for the playoffs by the season's end.