Boys' and Girls' Water Polo Take on Districts!
Throughout the entire season, the Cavalier Water Polo team has performed incredibly well, and all the team members have been very dedicated to their sport. Consumed by a vigorous practice schedule, they have spent several weeks, Monday through Friday, practicing for meets and improving their overall skills to achieve their goals. On Apr. 9, their season reached its climax as the Cavaliers took on Ransom Everglades at district championships. Although the game was set to start at 2 P.M, due to unpredictable weather, the starting time was pushed back until 3 o'clock. Regardless, the game was filled with high intensity, and team morale was held to high expectations all throughout. Despite all their hard work and the energy in the pool, the girls' team lost at Districts and took home the District Runner-Up award for their second place finish.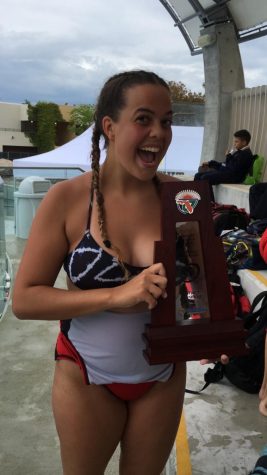 "We lost 19-2. It was an intense game mainly because it was against Ransom. They are a strong team that works very well together since they've all played together since middle school," sophomore Maria Abrahamyan said.
The boys' team started off in the pool against Belen on Apr. 8 in the late afternoon. In the beginning of the season, they played very well, despite having a few rocky games. However, this did not deter them and they continued to battle out their meets throughout the season, finishing with a respectable record of 6-7.
During their game, Gables started off strong until Belen's offense overpowered the Cavs, resulting in a 26-5 loss. Despite the loss, the Boys' Water Polo team is confident they will be able to find success in the upcoming season and contend for a district title.
At Districts, there was never a moment when the Cavalier Water Polo team did not pour their heart into the pool. While they are content with this year's performances, next year's swimmers are looking forward to a fresh start and setting new goals to accomplish. If you see any water polo players around campus, make sure to congratulate them on a successful season!