Athletes of the Week: January Edition
January marks the beginning of a new year and of new goals. Upon returning to school, Gables' student-athletes have more motivation than ever to achieve what they had not accomplished in the previous year. As of now, Gables' sports teams have been extremely successful; their dedication and effort have paid off. The following student-athletes were chosen to be the Athletes of the Week for all their hard work and exceptional performances throughout the month of January.
---
Week of Jan. 13- 20: Ceci Rodriguez and Etienne Montigny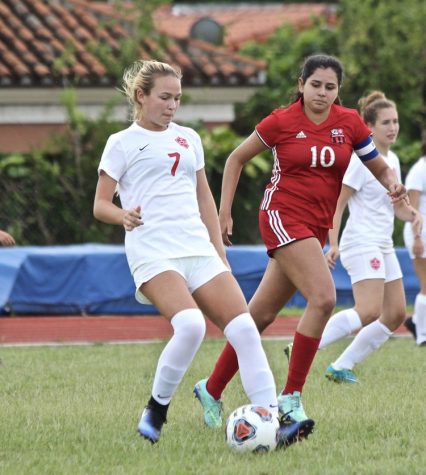 Ceci Rodriguez and Etienne Montigny are soccer players who were chosen to share the honor during the first week of January following the holiday break.
Ceci Rodriguez scored six goals to help power the Lady Cavalier Soccer team over Miami High, North Miami and Braddock. At the age of four, her father made the decision to put her on a team. Despite not liking it at first, soccer has become one of her biggest passions. Through the sport, Rodriguez has learned discipline, time management and how to work alongside people.  As of now, she is the team captain and is the role model for the other girls. 
 "I like being an inspiration, a leader and being able to bring the team together towards success," senior Ceci Rodriguez said.
Her main goal going into the season was to win as many games and improve as much as possible as the season progressed. This was difficult since they lost 14 of the seniors and the rest of the team was mostly comprised of freshmen. Building the team chemistry took some time, but they managed to get there and had a good season. The Lady Cavalier Soccer team made it to District Semifinals and Regionals.
After high school, Ceci Rodriguez will be playing Division 1 soccer at Davidson College, which has been a dream of hers. At Davidson, she plans on majoring in Biology and is excited to attend her dream school.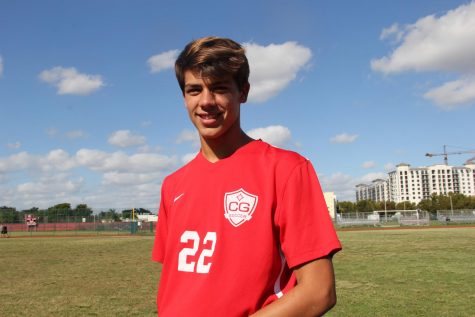 Etienne Montigny scored three goals, leading the Boys Soccer team to victory over their rival, Miami High, with a final score of 4-2. A freshman on the varsity squad, Montigny has been nothing short of impressive in his first year of high school sports. He has not only excelled on the soccer field but has also received Athlete of the Week honors in Cross Country and has been a remarkable young talent for the Cavalier Soccer team.
Week of Jan. 20- 27: Charlotte Bilbao and Fashawn Renejuste
Senior Fashawn Renejuste began wrestling as an in eighth grade in hopes of finding a one-to-one contact sport that he would like. Due to his hard work, he received Athlete of the Week for his three pins and one technical take down, causing him to improve his record to 14-0.
His goal for this season is to put Gables on the map by winning states. Since it is his last year at the school, he wants to make the best of the season and hopefully exceed beyond everyone's expectations. He trains daily in order to strengthen his and his team's skills. When not wresting, he plays for the Cavalier Football team. However, in his free time, he has a strong passion for rapping and loves to produce new music. With less than half a year left of high school, he hopes to be accepted into Life University and eventually major in engineering.
Inspired by her parents' passion for basketball, sophomore Charlotte Bilbao, at the age of 12, began to pursue basketball in Spain. Since arriving from Spain, she joined the Lady Cavalier Basketball team in order to continue her passion and further develop her skills. She received Athlete of the Week after tallying 19 points and 28 rebounds between rivals South Dade and Coral Park.
On a daily basis, she practices core elements of basketball like passing, dribbling and different team plays to gain an edge over her opponents. With such dedication, there is much stress when it comes to juggling academics. To prevent this, Bilbao tries to keep a very organized routine so she does not stray from her academics. After high school, when Bilbao goes away to college, she wants to continue playing basketball at the University of Deusto in Spain while simultaneously pursuing her dream of becoming a veterinarian.
Week of Jan 27- Feb 3: Jorge Becerril
Following in his family footsteps, senior Jorge Becerril began playing basketball at the early age of four years old after his brother encouraged him to play. Due to his tremendous work ethic and performances on the court, he was recognized as Athlete of the Week for the final week of January.
He received the honors after helping the Cavalier Basketball team defeat district rivals Southwest and Ferguson. Since joining the Cavalier Basketball team he has created a bond with the teammates that he will always cherish and, even beyond high school, his love for basketball will never fade as he seeks to pursue it at the collegiate level.
---
Coral Gables Senior High is proud to name these students the Athletes of the Week for their excellent performances in a broad variety of sports. These students have managed to balance their academic work, sports and extra-curricular activities in a brilliant way. Their dedication has paid off and Gables cannot wait to see what is next for them!