World Cup 2018 Finalized With French Triumph, Croatian Tears
Hang on for a minute...we're trying to find some more stories you might like.
Life says the odds are against you. Sports say there is always a chance. Entering the World Cup, Croatia was projected to have a mere 3% chance of making it to the Final. On July 15, the Croatian team defied all odds as they played a fast-paced and action-packed game versus the mighty French team. Despite the valiant efforts made by Croatia, it was the superior offense of France, and 19-year-old Kylian Mbappe in particular, that ultimately resulted in a thrilling victory, as they won their second FIFA World Cup Championship in 20 years.
The nail-biting matchup between Croatia and France concluded the events of the World Cup in Moscow. Ending by a score of 4-2 in favor of France, the game offered more than anybody could have hoped for. Featuring an own goal, a goalkeeper gaffe, angry fans intruding the field, and a teenage superstar scoring a goal, the 2018 World Cup Final was undeniably eventful. The game in its entirety was well-fought on either side, with both teams playing relatively even with each other.
While it can be argued that Croatia played a stronger first half than France, it was an unintentional and heartbreaking mistake that gifted the lead to the French 18 minutes in. Mario Mandzukic, attempting to divert the ball away from the goal on the defensive end, headed the ball into his own goal granting the French an early 1-0 lead. Roughly ten minutes afterward, Croatia brought the game to a tie with a goal of their own. With the stakes at their highest, Ivan Perisic contributed a rocket of a shot that got through the opposing goalkeeper, Hugo Lloris.
"Croatia really made the game interesting during the first half. The whole crowd was on their feet," sophomore Hector Perez said.
However, from that point forward, the remainder of the game was strictly downhill for the underdogs. At the turn of the 38th minute, France would score their second goal of the match, taking a 2-1 lead over Croatia into halftime. Despite Croatia having ball possession nearly 70% of the game, France was far more efficient with their shot selections and blew the game open in the second half, scoring a third goal at minute 59 and another at minute 64. Their fourth goal, scored by 19-year-old phenom Kylian Mbappe, made World Cup History, as the star became the first teenager to score a goal in a World Cup Final since Pele. With a lead that expanded to 4-1, France was in total domination and eyed victory. Although a minor miscue made by the French goalkeeper allowed a Croatian goal, there was too much distance to be made up for on the Croatian offensive end.
"I was really surprised to see the Croatian team fight so hard after getting themselves into such a huge hole early. It was exciting to see," junior Eric Valdes said.
As the World Cup came to a close, the French national team celebrated in jubilation as they were crowned with a victory. After four patient years of training, practice, and dedication, the ultimate dream became reality for the French National Team of the 2018 World Cup. Until the next global tournament, which will be held in 2022, be sure to tune in to the Women's World Cup taking place in the summer of 2019. [powr-social-feed id=fb0113c0_1531954717179]

About the Writer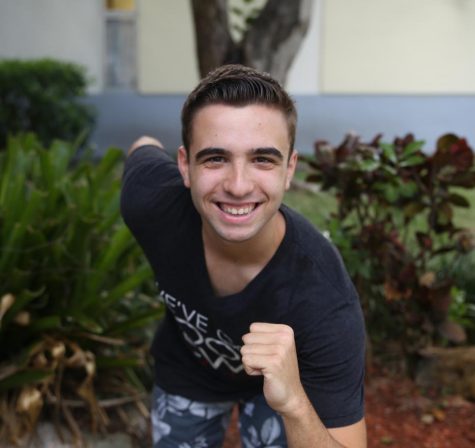 Daniel Toll, Sports Editor
Daniel "Danny" Toll, is a junior in the International Baccalaureate (IB) program. He is a down-to-earth, outgoing, and dedicated guy who has a broad variety of passions that extend beyond athletic fields and sports. Danny is a passionate baseball and basketball fan and a film enthusiast, especially when it comes to Marvel and Star Wars. Although he used to play piano as a child, he has been playing guitar over the past two years. On his free time, you will often find Danny at the gym, at a Marlins game, or volunteering. Although he is still unsure of what his future holds, he would like to pursue a career in either sports medicine or sports journalism at the University of Miami. Throughout the school year, Danny hopes to enhance his high school experience by being a part of several school clubs, such as IB Honor Society, Gables Earth, Best Buddies, and Key Club as he embarks upon his second year on the CavsConnect Team!