Athlete of the Week- Shamar Munroe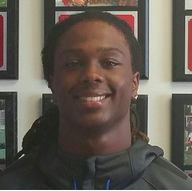 Junior Sharmar Munroe ran 91 yards scoring two touchdowns, and threw another touchdown which led the Cavaliers to a 56-0 victory.
Q: What position do you play and what is your jersey number?
A: I play quarterback, receiver, and free safety and I'm number 18.
Q: How long have you been playing football for?
A: This is my ninth year playing; I've been playing since I was six years old.
Q: Why did you start playing?
A: Actually, my mom had me try it out and I was pretty good at it so I just kept playing.
Q: How do you feel the Homestead game went?
A: It went well, despite the scoreboard. We still got a long way to go if we're trying to win states.
Q: Do you want to play football after high school, and if so, what is your dream school?
A: Yeah I actually do. One of the schools I really want to play at is Baylor, and if not there then at TCU (Texas Christian University).
Q: What is your season goal?
A: Get better every week and win states.
Q: What are you currently doing in practice to better your game?
A: Taking advantage of every rep. One rep at a time, getting better with teammates and just bringing a positive vibe out to everybody.
Q: What are your hobbies?
A:I like eating, sleeping, and I like photography. I like taking pictures.
Q: What school did you come from?
A: Felix Varela
Q: Since it's your first year at Gables, how are you liking it so far?
A: It's pretty amazing, there are a lot of people out here. Amazing coaches, amazing teachers, I like it out here it's great.