Athlete of the Week: Desnee Johnson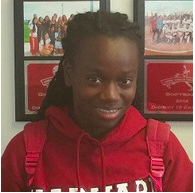 This week, sophomore Desnee Johnson helped lead the lady's flag football team to victory by scoring two touchdowns in their game against South Miami. CavsConnect managed to get a quick interview in with Johnson. The interview can be found printed below:
Q: What's it like being athlete of the week?
A: I think it means that I'm focused on what I do best.
Q: How did you get into flag football?
A: I just went and tried out because when I was younger, I used to play football and I thought "why not play flag football in high school?" Plus, the coaches kept asking me to play so I ended up on the team.
Q: Do you plan on continuing to play [throughout high school]?
A: Yes. I play on playing for my two remaining years at Gables.
Q: Do you have any other hobbies or interests other than football?
A: I play basketball and run for the track team.
Q: Do you plan on playing flag football in college? 
A: In college I plan on playing basketball, since that was my first sport.
Q: Do you play basketball for the school?
A: Yes. I am a member of the Lady Cavaliers basketball team.
Q: How has being a part of the flag football team enriched your high school experience?
A: We [all] have this bond where we're able to work together and take it out on the field.
Q: Is there anything else you want to say?
A: Not really…Go Cavs!
As their season comes to a close, the girls' flag football team still works hard. They are practicing almost every day after school and working hard for the District Semifinals. Make sure you catch Desnee Johnson and the rest of the flag football team on the field!