Athletes of the Week: Hans Supre, Antwan Walker, Dre'Quan Johnson & Amir Rasul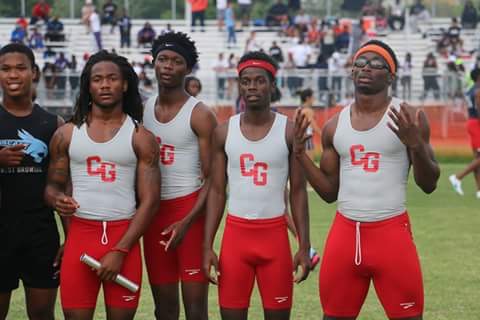 This week's Athletes of the Week made themselves known at the Regional Track Competition that took place last Friday. The Cavaliers 4 x 100-meter relay team members – Hans Supre, Antwan Walker, Dre'Quan Johnson and Amir Rasul – set a Gables record and qualified for the State Track meet at Regionals last week with 42:06 time.
Senior Hans Supre first started running track to better his speed for football; it was not until later that he realized that track was not just a way to train, but also a sport he enjoyed. Now track is also the sport that he holds a record in, along with his fellow teammates.
"It feels great considering how long the record stood. I'm just blessed to be a part of it," Supre said.
Antwan Walker, like Supre, took up track as training for football, but soon discovered that he not only liked running track but was also really successful at it. To read more about, Antwan Walker click here.
Amir Rasul started running track when he was 6 years old and quickly went from being the slowest in his grade to being the fastest. Now a junior, Rasul feels blessed to be allowed the chance to compete at regionals and now at states.
"We practiced very hard over the last two months and just to make it to states is an honor," Rasul said.
Following in his father's footsteps, senior Dre'Quan Johnson joined track his freshman year. Over the years, Johnson has trained hard to increase his speed with the hopes of making it to states. Now, Johnson is not only headed to the State Track meet, but has officially broken Gables's 4×1 relay record time after 46 years.
"
The morning of Regionals, all of us were talking about clinching a spot to go to states. We were all confident in ourselves and knew that with the right mindset and positive energy we could make it happen."
— Dre'Quan Johnson
With a record under their belt, Hans Supre, Antwan Walker, Dre'Quan Johnson and Amir Rasul are a team to be feared in the upcoming States Track Competition.
About the Contributor
Mariam Ahumada, Staff Writer
Mariam Ahumada, an outgoing senior, is part of the IB program at Coral Gables Senior High School. She is eager to embark on her third, and last year,...