Miracle Mile's New King Is Smooth!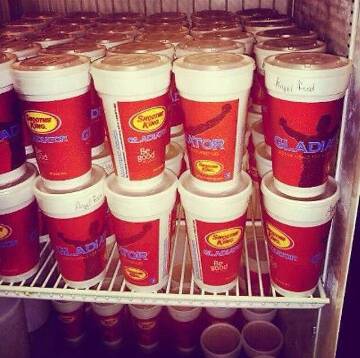 Miracle Mile, the famous section that is found in Coral Way between Le June Road and Douglas Road, now has a new recent addition to its food franchises like Starbuck's Coffee and Einstein Bagels. This addition stands out with pride; it's one of our favorite places to get a smoothie, and if you guessed Smoothie King, you're right. A brand new Smoothie King has opened in Miracle Mile at the beginning of this year.
"I didn't know it recently opened in Miracle Mile until the other day when I was strolling around. I'm going to check it out next time I go to Miracle Mile," junior Christopher Gonzalez said.
Smoothie King is a food retailer that is known for their thick yet creamy fruit-filled drinks, and it is rated #1 in the juice bar franchise. It was created by Steve Kuhnau in the late 1960s when he was trying to make his blood sugar lower easily without any stress involved and control his allergies in his own home. He was magically able to create a nutritional fruit smoothie whose taste was actually enjoyable. Years later, in 1973, Kuhnau opened a store that sold vitamins and healthy snacks with a smoothie on the side, and voila! The famous Smoothie King was born and open for business. 

"Smoothie King is one of my must-go-to dines. If I don't go to Smoothie King once a month, I think I'd probably go nuts," freshman Isabella Argudin said.
The most popular beverages that are in SK's nutritious smoothie meals menu are the Activator, and the Berry Punch.The Activator comes with bananas and the flavor of your choice in the options of vanilla, chocolate, and strawberry, and is also low-fat with lots of protein. The Berry Punch is filled with berries such as raspberries, strawberries, and blueberries. The best part is they're all blended up into a berry delicious smoothie! To find the menu for all of the drinks sold in Smoothie King, click on this link.
The king doesn't only sell drinks, they sell snacks too. Some snacks found in the food retailer are energy bars, granola, or soy chips. They even have cookies with high protein, and it has an endless amount of protein bars. The other options of snacks you may want to buy on your next visit are found here.
Last, but not least, if you're the type of person that must know the nutritional facts of foods you eat each day, the nutritional chart is found here.
Miracle Mile, already being as perfect as it is with all the shops such as Barnes & Noble, dines such as Subway, and entertainment such as the Coral Gables Art Cinema, is now ten times better than it was previously without SK being located there. It now provides a healthy yet sweet smoothie on your way to school or work.

Next time you finish shopping for books at Barnes & Noble and have a craving for a fruity blast, check out the new Smoothie King on the block. You'll love it so much, it might even become your new hang out place with your friends.