Apps to Widgetize Your Home Screen
Apple has just released its new software update called IOS 14 and users are already loving it. With the update, you can now personalize your home screen with widgets and change app icons with any photo of your choice. Though widgets have been seen before, this is the first time Apple users are able to utilize them. Widgets are seemingly a big square that goes on your screen to showcase things such as the weather, photos, news etc. The following apps have become popular among users who wish to personalize these spaces beyond what Apple allows them to.
Widgetsmith
Widgetsmith can be used for a variety of things when customizing your wallpaper. It can be used to display the time, date, a photo, calendar, reminders, your health and even astronomy. Each category has a variety of ways of displaying information to one's preference, for instance, when displaying the time it can either be viewed as digital or analog. It also comes with three different widget sizes: a small square, a medium rectangle and a large square that takes up half of the screen. Widgetsmith even allows you to customize the font, tint color and background of the widget you choose to display on your screen.
"I loved using the app Widgetsmith to customize my home screen because it has a variety of options that allowed me to reflect my personality through my phone," sophomore Katherine Arencibia said.
Motivation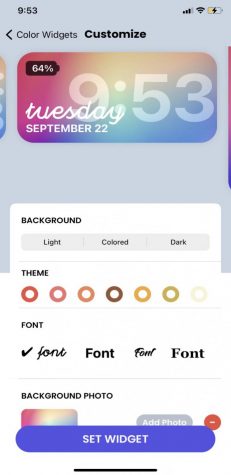 Motivation is an app that displays motivational quotes throughout the day for you to view. It has all widget sizes and multiple backgrounds for you to choose from. Each background has different fonts and aesthetically pleasing photos or colors. The app also provides you with a variety of inspiring quotes to choose from, examples of topics being mental health, health and fitness, hard times, relationships, etc. In each general section you can find subcategories to further specify your interests. For instance, if you decide to dive into health and fitness, there would be subcategories such as work out, self-development, sports and many more.
Unfortunately, there is a downside to this app. In order to view some of the subsections you have to upgrade to premium and pay a fee. Other than this aspect, it is a great app with many free quotes that brings positivity and motivation to your home screen.
"I love Motivation because whenever I am stressed it gives me something to smile about," sophomore Jeanette Perez said.
Color Widgets
Color widgets does not have as much of a variety as Widgetsmith, however, it is still a very useful app to have when customizing your home screen. It has widgets that display the date, with four options of fonts, the time and your battery percentage. Similar to the apps previously mentioned, it includes widgets that come in small, medium and large. It even allows you to customize the background of a widget with any color or photo of your choice, which is a defining feature that other apps do not offer.
Combining IOS14 and the apps listed above, you can finally have a home screen that screams you. To begin your creative journey in making perfect screens, download these apps today.