Woofing On Sunshine: Activities To Do With Your Pet
As students, our furry friends are usually the first thing we see when we walk in through the door. Always happy to see us and ready give us boatloads of love, our pets are cherished members of our family. With such a prominent role in our lives, it only makes sense that we go to as many places together as possible. Miami is a city renowned for its great weather and scenery, giving pet owners no shortage of opportunities to take their pets out on the town.
Exhale Spa
This luxury spa located in the upscale Loews Miami Beach hotel is far from a conventional spa. Yes, it does have all of the traditional offerings of a spa such as massages and facials but it also has doggy and me yoga and massage sessions. Exhale is one of the few spa's to offer this service and has multiple locations across the city and the country. Enjoy the vistas of the Atlantic while receiving a shiatsu massage with your best friend right at your side.
"I go to this spa regularly whether it is for aromatherapy or massages. I always see clients come in with their pets. Seeing the different owners with their dogs gives the place a unique and personal feel" senior Kaylin Yudice said
Restaurants
Miami as the 4th largest metropolitan area in the country is home to a wide variety of restaurants many of which cater to pet owners. Sawa Restaurant and Lounge in Merrick Park has one of the most comprehensive menus for dogs of any restaurant; they offer appetizers, entrees and desserts all for pets. Your furry friend could start off with Beggin Strips as an appetizer move onto chicken kebabs and finish off  ice cream. Out to Brunch? Many people default to Greenstreet Cafe in the Grove. This restaurant routinely offers patrons pets with bowls of fresh water along with grilled chicken and bacon. Never again will you have to leave your trusted sidekick when going out to eat.
"I always try and take my dog everywhere I go; she loves to go out shopping with me. It makes a noticeable difference in her mood that permeates throughout the week" senior Alejandra de Alba said
Outdoor Activities
Pets like their owners need exercise and outdoor activity. Luckily, Miami is blessed with a spectacular natural surroundings that are practically begging to be taken of advantage of. One of the more well-known places to take your pet is Hobie Beach on Virginia Key. After crossing Biscayne Bay en route to Key Biscayne, this beach lies parallel to the causeway. The beach is the closest pet-friendly beach outside of the Miami Beach area and offers patrons and their pets stunning views of Miami skyline. Paddle boards and kayaks are available for rent to patrons and their pets. Directly opposite of the Hodie Beach lies Kennedy Park back on the mainland. This is one of the best dog parks in the entire city and has a fairly long walking circuit that traverses the shoreline looking onto Key Biscayne.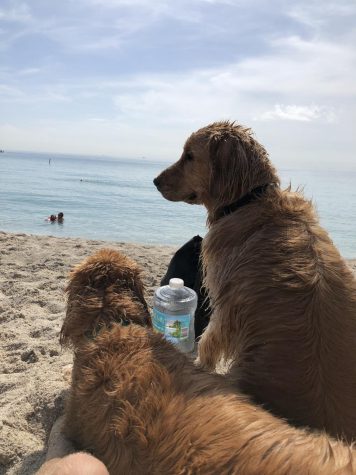 The relationship between animals and their owners is one that plays a central role in many people's emotional and psychological lives. Our pets consistently show unconditional love to us; as owners we have a responsibility to enrich their lives as much as possible.