Must Know Tips for Decorating Your Dorm Room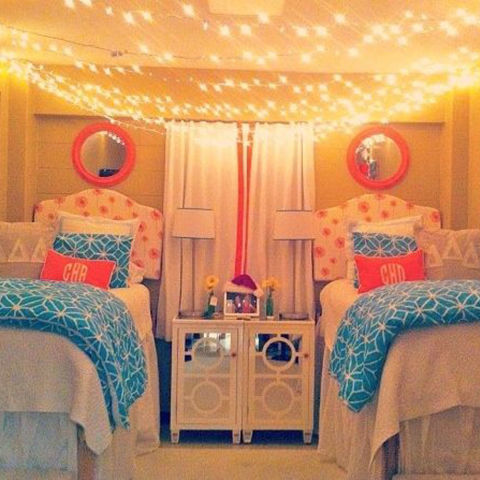 Across the nation a new group of students are awaiting their first year of college. Some are so eager they have already begun to shop for dorm necessities. With a bit of time and creativity, transforming your dorm from a cold empty room into a cozy retreat will be a breeze!  When decorating a dorm, it is important to remember these tips:
"I want a very simple dorm so it would have to be very organized. I would like flower pots with plants around my room to remind me of nature, and to keep the room fresh," senior Norberto Perez said
Storage Is Your Best Friend: Dorm rooms are not that big so it is important to turn hidden  spaces into storage spots.  An effective storage method are bins that fit under a bed; they occupy little space and are great for storing lots of belongings.

Aleida
Storing items under a bed ensures a lot of extra space.

Loft Beds Equal Double the Space: Lofting is a great idea because it frees up a lot of floor space that would not be available otherwise.  Most students do not use lofts in their dorms, so this tip will give your room that extra push that sets it apart from everyone else's!

Society 19
When horizontal storage space runs out, stacking things vertically is a good option.

Decorate the Walls: Hanging up pictures really showcases your personality, and gives your friends and classmates a sense of who you are. The more stuff you hang up, the cozier your dorm will feel.

The Odyssey
Hanging a lot of posters on your walls gives other students a feel of who you are.

Appliances: If you are sharing your doom with a friend, you can easily coordinate on which appliances to bring.  It is important to have a small refrigerator, toaster, and microwave so you can heat up food in your dorm whenever necessary.

Cosmopolitan
Appliances are the most forgotten necessity for college.
"I can't wait to decorate my dorm with lots of things I find in thrift stores, mostly posters," senior Clancy Cummings said
Your first year in college is definitely the best of your life, so there is no reason your dorm should not be the best on campus either. Follow these tips for the coolest dorm ever and leave everyone asking how you got it!