Outer Banks Out of Material?
Platform: Netflix
Release Date: Feb. 23, 2023
Director: Josh Pate
Cast: Chase Stokes, Rudy Pankow, Madelyn Cline, Madison Bailey, Jonathan Daviss, Carlacia Grant, Drew Starkey, Charles Esten, Andy McQueen 
Genres: Action-Adventure, Mystery, Teen Drama 
Rating: TV-MA (language, violence)
Our rating: B-
Following its highly anticipated season three release on Netflix, Outer Banks is finally out; a show outlining the feud between the so-called prosperous and entitled Kooks and poverty-stricken Pogues going after an infamous treasure. While the previous seasons of OBX were hair-raising, fans have been wondering whether or not this new season will live up to its hype. With iconic couples like Sarah Cameron and John B Routledge, played by Madelyn Cline and Chase Stokes, those awaiting the third seasons had high expectations for new relationships among other characters.
From searching for the Royal Merchant and the Cross of Santo Domingo, this season focuses on finding a new treasure: the lost city of gold known as El Dorado. Unexpected turn of events took place this season, such as John B finding his "late" father, Big John Routledge. John B insinuates how different his father was; a man driven by greed and determined to find this treasure. A key difference from this season was that John B was not treasure hunting with his friends but with his father. Uninterested in reuniting with his son again, Big John's comeback was detrimental to the plot and heartfelt scenes between John B and his friends present in past seasons.
View this post on Instagram
"I despise Big John. I don't like how he finds his son again and instead of trying to reconnect with him he drags him into a situation that John B does not even want to be in. This season was really entertaining, I just don't know if it will be as memorable as the second season," sophomore Hayli Perez said.
This season's whole plot has not been pulling viewers in as much as it should have, as it felt repeated and not as interesting as expected. The same storyline of the Pogues searching for a treasure, then losing it, then stealing it back and then losing it again, makes viewers unwilling to tune in for a new season. Although it was not an awful season, improvements could have been made. In this season, a more emotional finale for the Pogues could have contributed to the plot, as the fans were eagerly anticipating their victory ever since the first season. Since the first pilot episode, all the Pogues were concerned about finding El Dorado and the Cross of Santo Domingo, leaving audiences wanting a strong friendship felt through the screen; a friendship that seemed to be lacking in the new season.
"I feel like there could've been more chemistry between them instead of focusing instead on materialistic goals. In season one their relationship is much better then, compared to now," sophomore Marea Casciola said.
 Some of the main enemies for the Pogues throughout this season, Ward and Rafe, are returning characters who do not hesitate to stir up trouble. However, the season introduced a new rival. With his wealth and power, Carlos Singh has been a real threat to the Pogues and is looking for the same treasure as the teenagers. His greatest asset is his relentlessness to do whatever it takes in order to obtain this city of gold all for himself. 
Kidnapping, gunshots, robberies and heists are all present in this season, bringing with it a chilling adventure. This season was more violent than others, a shift that was hinted at in the trailer. Having become involved with individuals who are dangerous, the Pogues have raised the level of violence and murder to a new level. Nevertheless, all of these elements keep viewers on the edge of their seats, but not enough add to the storyline itself. Every scene watched involves the Pogues about to claim the treasure but then someone always has to step in and intervene through violent means.
"I feel like in every moment of the show there is always a gun being pulled, making me feel like it's a predictable thing," sophomore Chiara Ortiz de Rosas said. 
These past few seasons have had the same repetition, making the audience feel like they are watching the same thing over and over again. OBX has already been renewed for a fourth season, leaving fans wondering how the show will evolve. In the very last episode, a man came up to the Pogues asking if they could solve his quest, making it clear what the Pogues will be doing next season: the same storyline as before. 
Leave a Comment
Your donation will support the student journalists of Coral Gables Senior High School. Your contribution will help us cover our annual website hosting costs.
About the Contributor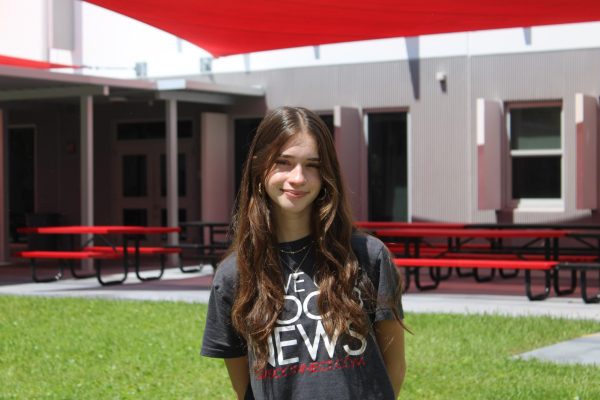 Emma Rivera, CavsConnect Staff Writer
Emma Rivera aims to make the most of her junior year. Rivera joined Gables as part of the Academy of Finance due to her interest in business. Fascinated...