Florida's Financial Literacy Push: Necessary for a Financially Savvy Future
As students at Coral Gables Senior High prepare for their transition into the adult world, the need for education about the economy and personal financial management is becoming increasingly important. In response to this sentiment, Florida Governor Ron DeSantis recently signed Senate Bill 1054, mandating that all public schools provide a financial literacy course to their students. This Financial Literacy Act is a much-needed measure to ensure the success of students after their time in high school.
The Dorothy L. Hukill Financial Literacy Act, named in honor of the late Senator Hukill, was suggested by Senator Travis Hutson of Flagler County. The act was passed unanimously in the Florida House and Senate in 2019, being partially put into effect in the form of an optional elective in Florida high schools. Governor Ron DeSantis officially signed the bill into law on March 22, and it is being put into effect through the Financial Literacy Act.
"Financial literacy is an essential life skill that is often overlooked in our public school system. With [Florida Senate Bill 1054,] our state has taken a positive step towards providing students with the tools to make informed decisions regarding their future financial success," junior Brayan Mendoza.
The passage of the bill slightly changed the standardized credit requirements for a Florida high school diploma. Instead of requiring eight elective credits, the updated diploma includes seven and a half elective credits, with the remaining half credit coming from the financial literacy course. This course will be taken by every freshman starting in the 2023-2024 school year, while current high schoolers will continue with the current requirements until they graduate.
"
This bill is an important part of ensuring that future students are prepared to make sound financial decisions and thrive in our ever-changing world,"
— junior Brayan Mendoza
The bill is a great step forward in preparing students for their future financial lives. Providing students with the knowledge to make sound financial decisions can help them avoid financial hardship in the future. It can also help them become more financially independent and secure by teaching them skills such as doing taxes, managing spending to ensure profit and completing basic financial actions like creating a bank account or applying for loans.
"As a student in the Academy of Finance, I think that having a new course of financial literacy would benefit the students of Gables. Even though losing an elective class for a course is unfortunate, I believe that every student should have basic knowledge on how to manage their finances so that they are ready for the real world," junior Osmany Garcia said.
In addition to the financial literacy courses, the bill also requires school districts to provide financial literacy information to parents and guardians of students. This can help to ensure that parents are aware of the importance of financial literacy and the resources available to help their children learn about it.
"While having a finance course as a mandatory credit for high school could provide some benefits to the well-being of students in the future, there should be a better alternative than taking away an elective credit from the graduation requirement. Financial literacy is important, but with the focus that we already have on finance in the school, I feel like kids should be allowed to stay with the same amount of electives, as they help us explore and have fun in school," junior Luis Mora said.
While the passage of the bill is a positive step forward, there is still more work to be done regarding financial literacy. It is important that the courses be taught effectively and that students have access to resources to help them learn to apply these financial concepts in real life. Additionally, resources should be made available to parents and guardians to help them support their children in their financial education.
Overall, Florida's Senate Bill 1054 is an important step in the right direction for improving the financial literacy of our public school students. Giving students the information to make sound financial decisions will help them become more financially independent and secure. It is essential that we continue to focus on financial literacy and ensure that it is taught effectively in our public schools.
Leave a Comment
Your donation will support the student journalists of Coral Gables Senior High School. Your contribution will help us cover our annual website hosting costs.
About the Contributors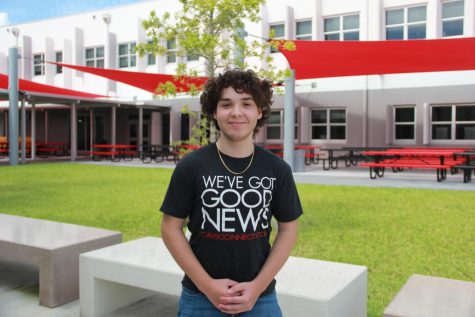 Anthony Fajardo, CavsConnect Staff Writer
Anthony Fajardo is a sophomore in the International Baccalaureate program at Coral Gables Senior High. Coming back after his first year, he is extremely...