Qatar Hosts FIFA's 2022 World Cup Despite Controversy
While crowds proudly cheer for their home teams in the scorching weather of Qatar, the host country of the 2022 World Cup, they sit on the seats of the eight brand-new stadiums put together by underpaid and mistreated migrant workers.  The International Federation of Association Football's President Gianni Infantino called the event "a tournament of peace and unity"; however, the tournament has a dark past full of inhumanity, abuse and death.
The real atrocity lies deep in the closely closeted secrets of the conditions that migrant workers from Bangladesh, Nepal, the Philippines and India had to work in when it came to preparing for the event. The army of excited workers came to the empty city of Doha only to be greeted by their capitalist employers trapping them into the manipulative cycle of continuous labor with their human rights neglected.
Apart from suffering through the heat, which reached higher than 120 degrees Fahrenheit, they had to share rooms lacking basic necessities like food, bedding and proper showers. These workers were exploited and underpaid by the region's infamous kafala system, prohibiting from leaving Qatar and forcing them to pay unreasonable amounts for visas and transportation.
"Typically [kafala] means that the worker is entirely dependent on the employer for their entry into the country [which]… put[s] the worker in a situation where they're vulnerable to exploitation," said Max Tuñón, the head of the International Labour Organization office in Doha, Qatar.
"It's unfair to the people who worked there and were tricked like that. It should be talked about more because I didn't even know about this before. And I bet that theres people that are gonna go to the stadiums and nobody's going to know about the people that have suffered because of the organization," junior Victoria Excalibur said.
The country's government has totaled that 30,000 migrant workers were employed and forced to build for the World Cup. By 2021, roughly 6,500 migrant workers had lost their lives due to "work-related projects", an amount not inclusive the suicides, heart attacks and other lethal health problems that resulted from the mental and physical strain of working in such poor conditions.
"
FIFA is very influential organization, so the fact that so many workers died in the process of building these stadiums just for a want for money, considering that FIFA is already a multi-billion dollar association is selfish. I think the corruption that went into the elections for the Cup host is terrible, and does not represent the values the company should have,
— freshman Nico Ojesto
The story of corruption began in December of 2010, when FIFA irresponsibly assigned 2022's World Cup to Qatar, a country smaller than Connecticut with heavy religious and social discrimination. Qatar's sweltering weather and need for massive amounts of construction was ignored by FIFA officials, who each received $1 million from the deal.
"The fact that votes were bought really shows what FIFA's priorities are when it comes to events like the World Cup, that being money and personal benefit. I think this definitely weakens the passion for soccer, especially for fans who watch the tournament," freshman Lucia Astorga said.
Qatar spent $220 billion on infrastructure and construction just to qualify for FIFA's requirements of stadiums having a minimum of 40,000 to 80,000 seats per stadium and four hotels per stadium location.
"The three main moneymakers for FIFA come from broadcasting, ticket sales and marketing revenue… For 2022, FIFA shelled out roughly $1.7 billion to Qatar, including the $440 million in total prize money for teams."
The same issue also arose in 2018 when Russia was made the World Cup host with former soccer official, Jack Warner of Trinidad and Tobago, who received $5 million through a string of shell companies to vote for Russia.
Of course, the illegal bribe in Qatar's favor required the internationally-loved competition to be moved to November, a useless attempt to escape the year-round heat. Security threatened media reporters filming the streets of Doha, while homosexual couples were discouraged from showing public affection and even rejected from buying rooms from certain hotels in the capital.
The Human Rights Reporter's Guide for 2022 FIFA World Cup Qatar states how "all six LGBT Qatari people interviewed said they were detained in an underground prison in Al Dafneh, Doha, where they were subjected to physical abuse, and denied access to legal counsels, family and medical care."
"I think it's pretty sad how the World Cup is such a famous event that so many people watch, without knowing the truth about what happened. Since it's such a big organization, it definitely has the responsibility to change for its fans, and also just the sport itself," freshman Sofia Abril said.
While this year's World Cup is being enjoyed by fans watching all over the world, it is crucial they know its history of violating human rights, bribery and discrimination. Each supporter plays a part in FIFA's decisions, meaning that a large-scale boycott or even public pressure can compel FIFA to change its policies and respect all the efforts put into one of the most popular sports events worldwide.
Leave a Comment
Your donation will support the student journalists of Coral Gables Senior High School. Your contribution will help us cover our annual website hosting costs.
About the Contributor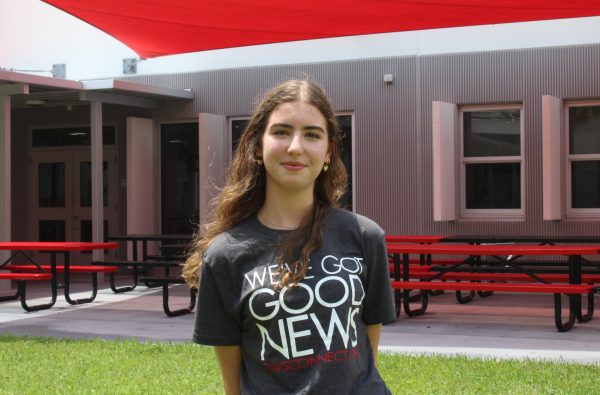 Marina Astorga, CavsConnect News Editor
As a sophomore in the International Baccalaureate program, Marina Astorga is excited to come back to CavsConnect for her second year in the publication....