Dismissal of Science During COVID-19: Disastrous Impacts
Over the past few months, millions of Americans have witnessed the detrimental effects of Coronavirus on everyday lives with many experiencing the loss of jobs alongside the possibility of contracting this deadly virus. As this pandemic worsens in the United States, residents are scrambling to find guidance to combat the difficulties they currently are facing. Thus, this overall confusion brought about by many government officials dismissing the science behind COVID-19 has put many lives in jeopardy. As the United States attempts to combat the spread of the virus there is a great deal of misinformation circulating the media on whether or not certain precautions, like wearing masks, should be mandated. As we near the commencement of school, cases continue to rise in the majority of states because there lacks clear plans to help residents remain safe and financially secure. From the local to national government, science needs to be the determining factor, not politics, when making decisions to combat the virus.
This virus is now politicized with many government officials making decisions for their own personal gain rather than listening to the scientific data presented. For instance, states like Florida reopened prematurely which in turn made Miami one of the global epicenters of the corona virus pandemic despite numerous warnings made by health officials to not reopen places such as bars, restaurants, and beaches. Our governor, Ron DeSantis, downplayed the severity of the virus with many public health officials coming forward stating they were pressured to skew numbers to help his case on reopening. One health official in particular, Rebekah Jones, says data scientists were pressured to fix the numbers to make the argument to reopen. 
Furthermore, as more and more Americans lose their jobs, many elected officials are not in favor of the stimulus bill. This would provide some economic relief to many Americans who are currently suffering unemployment and money troubles due to the economic halt that COVID-19 brought about. Unfortunately, the entire bill was rejected by the majority of republican senators because their argument is that the reopening of the economy takes precedent over American lives. Millions of Americans are now hanging on by a thread because rather than supporting the interest of these people, government officials chose to make this a partisan issue. Not only is the stimulus bill now being a main political discussion but also the wearing of masks due to people saying it is their choice to wear them or not. Ever since President Trump questioned face mask's efficiency, many Americans stopped wearing them even though there is proof that mask wearing in public places helps mitigate the spread. With such a fast growing number of cases, masks need to be mandatory to help reduce the spread of such a contagious virus.
"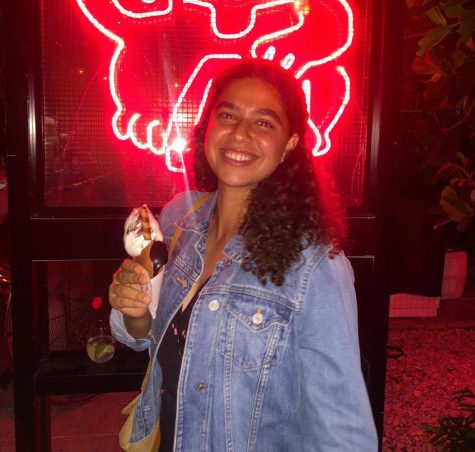 The trump administration is ignoring the science and Dr. Fauci's advice because they are too focused on the economy and their ego. If the president doesn't even where a mask how can you expect many of his supporters, anti-maskers, to wear a mask. If the leader of the US is failing to be a role model then how can we expect the number of cases to go down, and everybody to comply with the CDC's rules and advice.
— junior Sabrina Bonavita
This type of behavior is not new, as this same political premise has occurred in response to climate change, healthcare and now is seen in regards to the pandemic. If plans were created solely based on science, many lives would have been saved and the United States would not be in this serious situation. The United States watched China and Italy, the first two major epicenters, create a national plan where residents were under strict quarantine for months. Fortunately, this helped these nations lessen the number of cases, yet our national government has not learned from this example. The majority of European nations approached this situation with their policy-makers listening to researchers in order bring down the amount of cases. Currently, the strategies they enacted have been very effective with residents living in nations like Germany are returning back normal daily routines with certain precautions in place.
"The United States also never fully went into lockdown unlike many European countries- their lockdown was around 90% while the US only shut down to around 50%. European leaders also followed the advice and guidelines of their doctors, epidemiologists, qualified experts and because of this were able to successfully open up sooner as well. America on the other hand has begun reopening very quickly even with high numbers of cases, due to Trump's continued insistence that the economy must be preserved, putting the lives of healthcare and essential workers on the line. Trump also has made it very clear that he is against testing ,and on many occasions taken away federal funding for testing sites, and hospitals now even have to route their data through outside organizations which is ridiculous," junior Rachel Dopico said.
As our government continues to figure out what needs to be done in order to protect the health and overall well-being of people in this country, many elected officials continuously belittle the value of science creating plans off of their own personal beliefs. This can no longer be accepted and as cases continue to rise, science needs to play a leading factor when coming up with preventative measures.