Sixty-Eight Years Strong – What Gables Has to Offer
Andres Velasco, Lilliana Bonner, Gaby Torna, and Emily Kay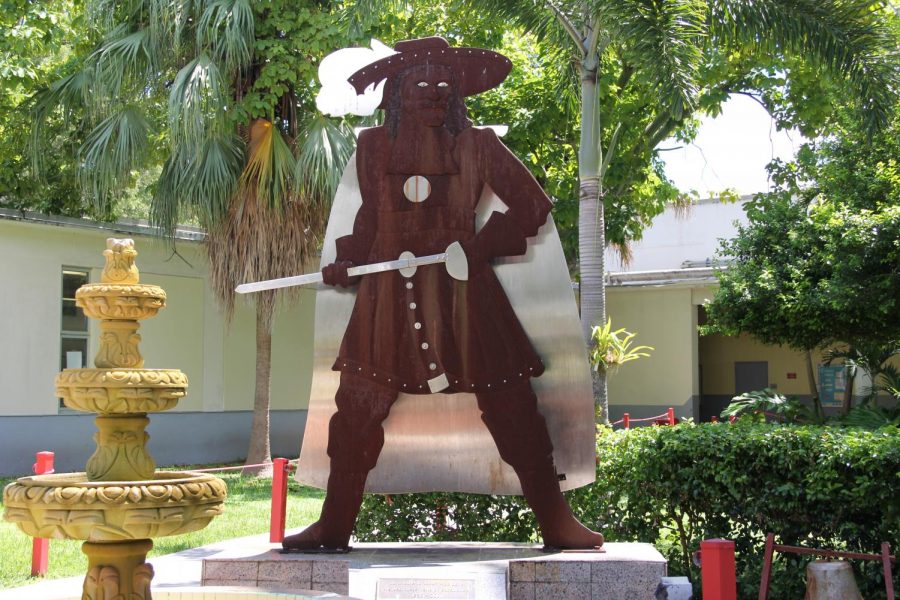 Coral Gables Senior High is one of the oldest high schools in Miami and has been an icon of Coral Gables since it opened its doors in 1950.  Recently, in order to revitalize the historic school's appearance, renovation plans were drafted to completely demolish and reconstruct two of the oldest buildings on campus (buildings 5 and 6) starting in 2019. In the meantime, some people have taken measures into their own hands to make sure that Coral Gables Senior High looks like an establishment that residents of the city can be proud of. In late August, the "Friends of Coral Gables Senior High" Facebook page posted a now-deleted video of a school tour where a narrator likened it to a "two-star hotel" and a "crackhouse". Though it was undoubtedly published with the noble intentions of raising money to repair the school, many students and alumni took offense to the description and took to social media to share their discontent. Indeed, it was the wrong way to go about it. Describing the school's academics as "okay" and ridiculing its appearance is disrespectful to the staff that dedicates all their time to the school, and to the students who often excel in their classes; it overlooks the best parts of Gables, both academic and non-academic. There are lots of more constructive ways people can- and do – help Coral Gables Senior High improve.
One thing that makes our school stand out from most others is the number of Cavalier alumni that return to teach or work in other areas around the school. The impact that the school had on them as adolescents have motivated them to return and give back to the new generation of Cavaliers. "I love how bright my students are. They're humble. They come from all walks of life…I wanted to give back; I love working for a public school," alumnus and Social Studies teacher Mr. De Armas said. In fact, many stay after school, sponsoring clubs, coaching sports and making improvements to the school. Their motto seems to be that although they can not control how the school looks on the outside, they can always control of what happens inside the classroom. Imagine how inspiring a video featuring these hardworking people could have been, all while respecting their efforts. A school, especially one with so much to offer, should not be reduced to its appearance without spotlighting why it is worthy of support, and the Cavalier staff is a perfect example of this.
With such an amazing staff to support them, many students excel in their classes. Recent graduates have attended prestigious colleges such as Stanford, Princeton, Harvard, Dartmouth, the University of Pennsylvania, Cornell and Yale. "Every year we get kids into very selective schools…we have a college-going culture here and, in 2018, we received 23 million dollars in scholarship money," Coordinated Admissions Program (CAP) adviser Ms. Stack said. Gables is fortunate to be a part of the select few high schools with a CAP program to help seniors applying to college maximize their potential. Ms. Stack, along with the cavalier Parent Teacher Student Association (PTSA), is also responsible for the annual on-campus college fair, where students can get a glimpse of all the opportunities available for their future. College representatives travel from around the country to present the various advantages of their school to the cavalier applicants, 92% of who attend a two or four-year college.
CGHS has five student-run publications on campus, all of which have been designated All-Florida rank in the past, and the fantastic STEM program appeals to students who excel in math and science. Even outside of academics, students are involved in 52 clubs such as Debate Club, Math Club, Model United Nations, International Baccalaureate (IB) Honor Society, Future Business Leaders of America (FBLA), Gables Earth, and the  National Spanish Honor Society. Cavalier academics are more than "okay" – our students are ranked 14 points above the district average in Advanced Placement participation, and the high school was recently named a Nationally Certified-Demonstration Magnet School for its IB program. Hearing all these remarkable things about this school would more likely motivate people to donate and support these programs than hearing about the negatives of how the old buildings on campus look old.
The idea of raising money for Coral Gables Senior High is greatly appreciated by everyone involved with the school. There are plenty of worthy causes within the school that could use additional funding. Though there are several major fundraisers for the school which take place throughout the year, a person that is interested in filming their own video to generate donations for the school might consider capturing a before-and-after video of ongoing campus construction projects before highlighting areas that may still need attention. A video featuring the extra hours Cavalier staffers put into beautifying the campus would have been more efficient in encouraging people in the community to help them out. These methods would help to build a sense of pride surrounding our campus instead of disappointment.
After 68 years of educating generations of students, Coral Gables Senior High is a monument to the history of city of Coral Gables. Even if parts of the campus have deteriorated since their original construction, to focus only on the unattractive parts of the older buildings is to overlook the spirit of the school and what makes it unique. In the past several decades, Gables has opened a lot of new programs for their students and welcomed back several alumni onto the staff. In the future, the school has plans to make renovations and continue to improve student life, as well as to be a historic centerpiece of the community.