Bikes Up, Guns Down
This Martin Luther King day, hundreds of motor cyclists took to the Miami streets for the second year in a row to ride in honor of Dr. Martin Luther King, Jr. and to spread a message of non-violence with their slogan "Bikes up, Guns Down." Although they may have had good intentions, their delivery of the message could have been done a bit safer and a little more how Dr. King would have envisioned all his hard work being celebrated.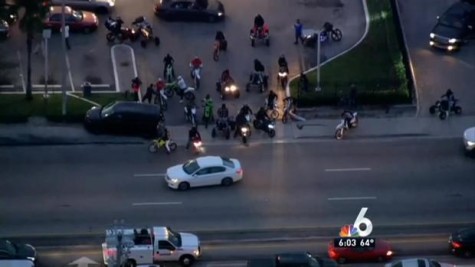 The riders spent most of their day recklessly riding down main roads in large numbers and swerving through traffic. The riders ignored all traffic laws – running red lights and driving recklessly by performing wheelies – removed all license plates from their motorcycles to avoid any legal consequences for their behavior. There were certain instances of  accidents including one serious injury in Ft. Lauderdale that was airlifted to Jackson Memorial Hospital's Ryder Trauma Center. Five people got arrested out of the hundreds that took place in this display in honor of Dr. King; police chose not to chase down the motorcyclists.
"Like most people, I feel like it was intended to do good, but again, the display could have been safer and better instead of reckless motorcycle driving," sophomore Sofia Viglucci said.
Even though this wasn't the best way to honor MLK, most of the participators in the "ride out" were very happy and their sole purpose of being out on the roads was to celebrate the equality that Dr. King helped bring to our country.
"I think it's great what they did – it shows the freedom that Dr. King wanted the world to have, and I guess it could have been a bit safer," freshman Terrence Jenkins said.
Needless to say, no display of freedom, no matter how passionate or how well intended, should endanger the safety of anyone. With the riders going through and against the flow of traffic, many regular roads were unsafe. Hopefully, the next MLK day will have a much safer celebration such as the MLK Day Parade  and not a motorcycle "ride out" that put many lives in danger and delayed multiple drivers' commutes.