For one night a year, parents become students. On the evening of Sept. 12, Coral Gables Senior High hosted Open House from 5:30 p.m. to 7:45 p.m., a chance for parents to meet their children's teachers and learn about the curriculum of their classes. Mothers and fathers roamed throughout the school, in hopes of preparing themselves for the school year their kids will endure.  
The event began in the gymnasium with a Resource Fair, which lasted from 4:45 p.m. to 5:15 p.m. Throughout the scene, there were stands for parents to visit and learn general information. Administrations stood ready to help at the Adult Education stand, while Ms. Sanz and Mrs. Kurzner led the College Assistance Program stand, that informed parents on high school essentials, such as uniforms and other miscellaneous information.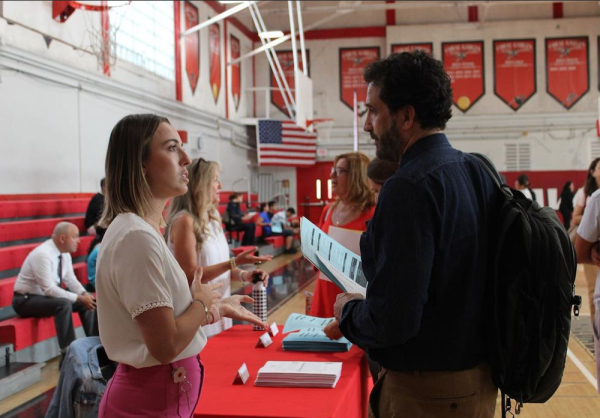 "I think Open House is very important, parents being involved is huge. I see it all the time where there is parent involvement, the kid is usually more successful, they tend to be happier, they tend to seek more resources and try harder when they fail something and it helps them pick back up again," Ms. Kiely said.
After the fair concluded, parents scattered around Gables to visit their children's classes. Walking in and out classrooms and up and down stairs, all periods lasted 11 minutes, with parents being given a six minute transition into the next period. 
"To prepare for Open House I think about, as a parent, what would I want to hear. Probably a little about me since I'm with their kid a lot. I also think about how this program [International Baccalaureate] can benefit their kid so I look more into how it benefits you as a student, seeking the diploma, scholarship opportunities and things like that," Mrs. Kiely said.
Throughout the school, staff and teachers put forth their best efforts to make parents feel welcomed while getting a glimpse of their kids learning environment with ease. Cavaliers in Student Activities, an elective class dedicated to organizing and executing school events and lead the student government, were placed in different corners of the school to assist. Both upperclassmen and their juniors alike aided parents with general questions and pointed them in the right directions.  Additionally, the Gablettes were also in attendance with a similar purpose, directing parents.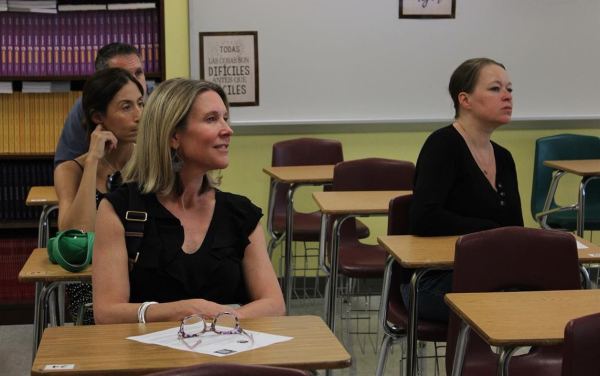 "Student Activities members are placed in certain areas of the school, equally spaced and in general areas where most parents will be passing. Our job is to essentially direct parents where to go, we understand that parents are unfamiliar with the school grounds and it's our job to essentially tell them where to go because we need everything run as smoothly as possible," junior Melissa Hernandez said.
When asked in a survey taken the night of, a majority of parents agreed that Open House was successful in informing them about the school and the classes their children were enrolled in.
"I think Open House has definitely taught me a lot more about the school and the teachers because you get an idea of what's coming for the year and what the teachers are like. My favorite teacher so far has been Mr. De Armas because I love history and his class seemed very interesting" parent Nicole Hernandez said.
Although many administrators and teachers agree that Open House was a complicated event to plan, from sorting schedules to explaining entire courses in a matter of minutes, they were able to manage and educate hundreds of parents weaving in and out. For a few hours, parents enjoyed the nostalgic feel of desks and dove deeper into their children's education.