From Gablette to CAP Advisor: Ms. Sanz de Acedo
At Coral Gables Senior High, the College Assistance Program advisor is a junior's and senior's best friend, leading the way through what can seem like a daunting life after high school. After leaving the home of the Cavaliers, last year's advisor, Ms. Driver, left some big shoes to fill, being that the school only has one advisor for nearly 3000 students. Looking to fill Ms. Driver's role, Ms. Suarez, head of student activities, went in search for a qualified candidate and decided to look within the Gable's alumni network where she found Ms. Sofia Sanz de Acedo. 
Understanding the hustle and bustle of student life at Gables, Ms. Sanz de Acedo spent most of her high school experience practicing with the Gablettes team, where she held the title of officer. Fulfilling all the qualifications from an extensive requirement list to being able to manage various responsibilities, the dancer was devoted to the leadership position.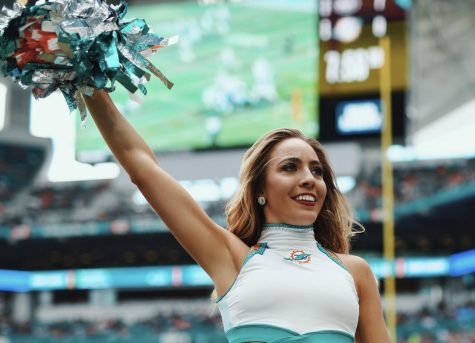 In addition to directing the dance team, Sanz de Acedo was part of the International Baccalaureate program and clubs such as Interact and the National Honor Society. Her spirit did not end in the dance room as she was also a champion for Support our Sports, a club that not longer operates at Gables, where she was able to help promote student involvement within the athletic department. Upon graduating in 2015, Ms. Sanz de Acedo made sure to keep in contact with her teachers as she always had an inkling that she would eventually come back to work at her alma mater. 
"I am looking forward to working with her now as a peer. As a student she was intelligent, hard working and very very committed to CGHS as a Gablette officer. So I know that commitment is going to transition into her role as CAP advisor," Ms. Suarez said. 
After her teenage years, Ms. Sanz de Acedo taught language arts to sixth graders at Brownsville Middle School upon graduating from Florida State University with a degree in English Literature and Education. However, her passion for dance led her to the National Dance Alliance National Champions stage where after countless hours spent practicing she ultimately landed on the floor of the Miami Dolphins football stadium as a cheerleader.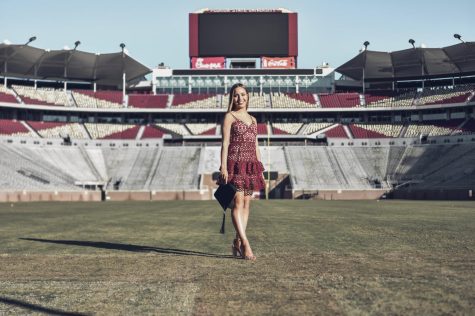 To ensure she is reaching every corner of the campus, Ms. Sanz de Acedo is hoping to communicate with students through a new platform: the CavsConnect website. On the front page of the website, students can find the CAP corner and receive daily class information. As she works to perfect the page, the advisor has announced that students will soon be able to subscribe and receive notifications when there is a new update. Once she begins to acclimate into her new role, Ms. Sanz de Acedo is striving to further connect with the student body.
"Deciding what to do after high school is an exciting yet taxing process. There are so many different factors to consider when applying to college and eventually choosing where to attend. Being CAP Advisor means helping students through this process, and I'm so excited to start helping students see their potential and what they can accomplish with a post-secondary education," Ms. Sanz de Acedo said. 
Remembering how encouraged and supported she felt by her teachers while at Gables, the CAP advisor is hoping to foster those same emotions for her students. Working in her new office situated in the 6000 building, Sanz de Acedo is taking the open-door policy to heart, as she is prepared to provide students advice and guidance at any hour of the school day. No matter the grade level, Ms. Sanz de Acedo is welcoming every Cavalier with open arms. 
"One of my favorite quotes is 'No one is you, and that is your power'. This really resonates with me because it is easy to get overwhelmed or compare yourself to others, especially in school or during the college application process. I hope this reminds students to find their strength in their individuality and use that to their advantage," Ms. Sanz de Acedo said. 
If you are interested in requesting a meeting with Ms. Sanz de Acedo, click here. 
Leave a Comment
Your donation will support the student journalists of Coral Gables Senior High School. Your contribution will help us cover our annual website hosting costs.
About the Contributor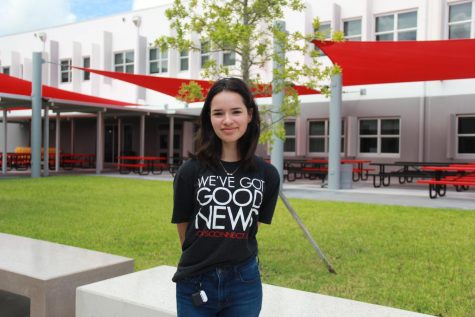 Maria Odio, CavsConnect Features Editor
Maria Odio is a senior at Coral Gables Senior High and is looking forward to continuing her writing career this year as features editor for CavsConnect....