From Seniors to Freshmen: College Signing Day Marks the Beginning of a New Chapter
After years of effort, college-bound Cavaliers celebrated their acceptance and commitment to their universities on College Signing Day, sponsored and planned by the College Assistance Program. On April 18, the Coral Gables Senior High gymnasium was brimming with fun, as seniors signed a large poster in college merchandise and partook in games, cheers, and friendly competition.
At 9 a.m., the Class of 2023 were called upon to the Gables gym, ready to duke it out in an event to remember. Once there, Ms. Barrow, the IB Theater teacher and Troupe Advisor, and senior Alejandro Garnier introduced themselves as the Masters of Ceremony, keeping the energy high throughout the event with engaging commentary and active participation with the audience on the bleachers. 
"Sitting on the bleachers that day and seeing all of my friends wearing their college's merch made me realize the fact that most of us are going to be separated after so many fun years spent together," senior Yulian Ochoa said.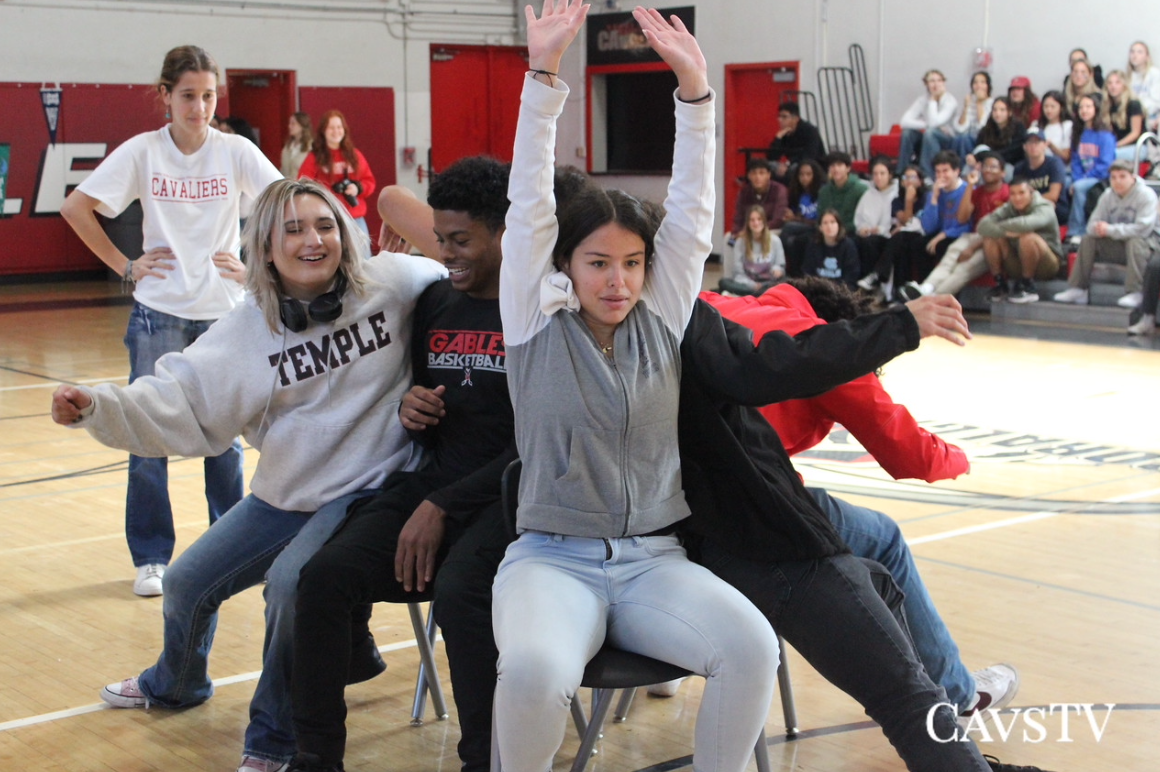 The College Signing Day began with an opportunity for seniors to write an inspiring message on a large poster. Students then posed in front of the photo booth with banners and flags to show off college spirit.
Beginning the series of games, the first was the classic Musical Chair tournament. Out of the original 50 volunteers, seniors slowly whittled down, leading up to a face-off between seniors Christian Sanchez and Gian Castro. Unfortunately, Sanchez was eliminated by disqualification, resulting in Castro taking the win. Both contestants were cheered for their efforts.
"I was unfortunately disqualified from the musical chair game, but that didn't discourage me. I had an amazing time with so much adrenaline that there was no space for disappointment," senior Christian Sanchez said.
The second game of Twister had four groups of five playing simultaneously. However, the game appeared to reach a stalemate, which inspired a change of plans. This overrule put the final eight against one another on two combined mats, with the final face-off coming down to Marco Laffitte, Ariadna Torras, and Victoria Krulig. After such a tangled competition, Torras emerged as the winner.
"I'm glad I was able to participate in Twister even though I didn't last too long. It was fun, and the multiple games at the same time made it even more competitive, which I love," senior Ochoa said.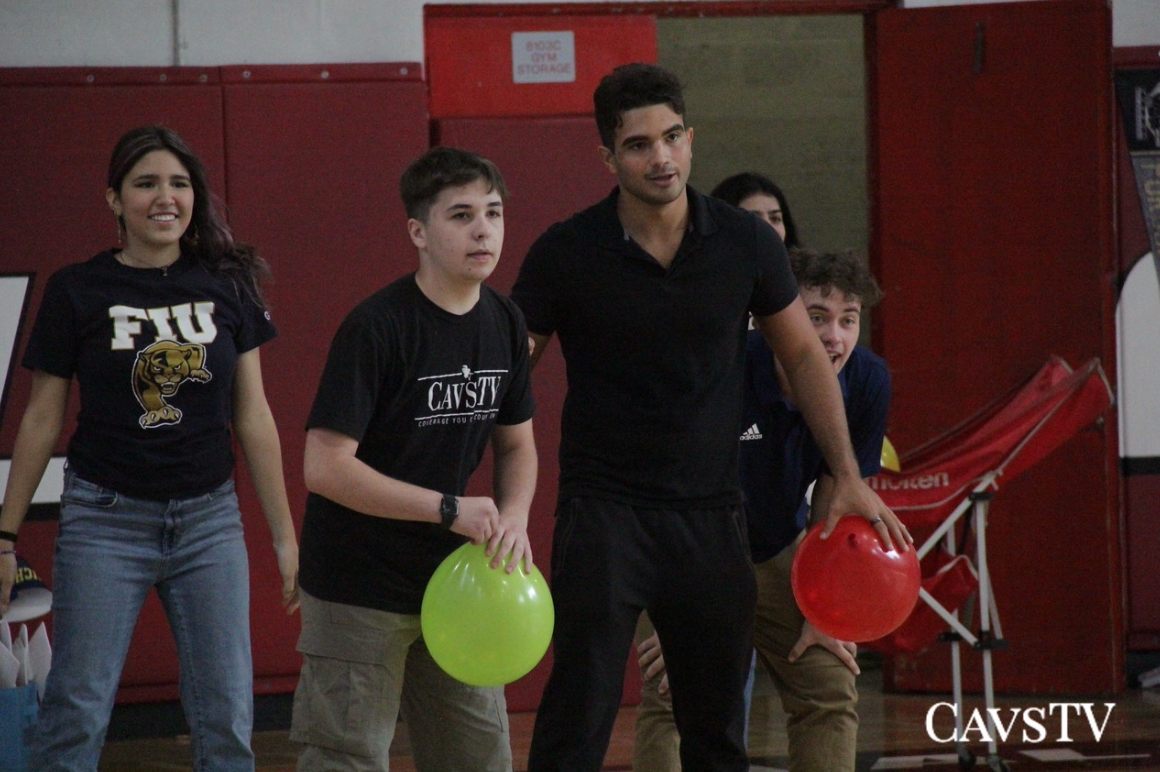 The final game was an intense balloon relay race, with five seniors committed either to the University of Miami, University of Florida, Florida State University, Florida International University or an out of state institution. The game had common participants sprint across the gym with a balloon to later place on a chair and pop by sitting on them. Once burst, runners were to return to their team and repeat the process until all five balloons were popped. The game was almost a photo-finish, with UM and FSU neck-and-neck. Ultimately, FSU were crowned the winners while the other teams were given a chance at redemption. FIU emerged victorious and went on to the finale. Team FIU triumphed after heavy, but unsuccessful efforts from Team FSU.
As a final event, all the seniors gathered on the bleachers for a group picture holding their personalized signed poster. Before their send-off, the graduating seniors were reminded of a familiar phrase, one that was the beginning of their high school career and still resonates deeply within the halls of Coral Gables Senior High: the enduring exhortation, "Go Cavs".
"I feel sad ending high school since all of my friends are leaving and going away to college, but at the same time, I feel like it's a new beginning in my life, as I start to mature and learn how to be an adult," senior Julio Bonjoch said.
With their college commitments in hand and memories of their College Signing Day celebration, the class of 2023 left the gym with a sense of accomplishment and pride. The event not only celebrated their individual achievements, it showcased the tight-knit community at Gables, which will hopefully continue wherever our Cavaliers are headed.
Leave a Comment
Your donation will support the student journalists of Coral Gables Senior High School. Your contribution will help us cover our annual website hosting costs.
About the Contributor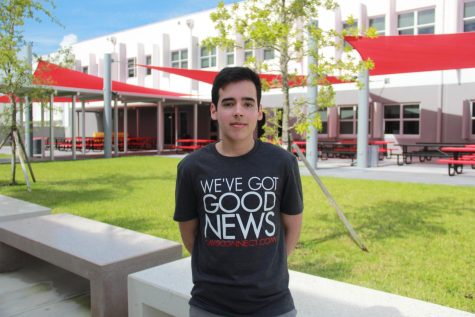 Edgar Perez, CavsConnect Staff Writer
Edgar Perez is a senior in the International Baccalaureate program starting his first year in CavsConnect as a staff writer. He is excited to extend his...