Stars Align for FSPA's Flashy Fashion Trends
The Florida Scholastic Press Association has once again welcomed students from across the state to the Wyndham Resort in Orlando, Fla. to celebrate student-run publications at its 2023 convention. However, this year's event has a new spin as speakers emphasized the importance of journalistic collaboration with the theme "Stars Align". By shining a light on the stories that can change the world, creators come together to illuminate the world of journalism.
"Hosting such an event like this gives the future of journalism a chance to learn and grow from industry professionals that are so incredibly overqualified to be here, but we're so grateful that they are," FSPA State Chair, Addison Gear said.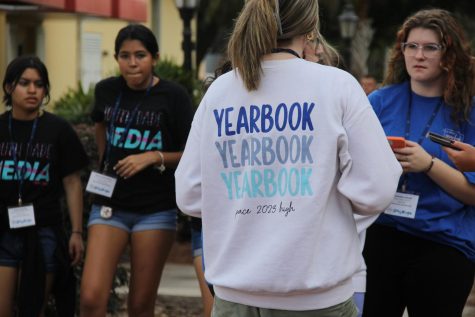 From day one, the convention attendees showed out with their spirit gear to display the strength of the journalistic bond between districts. Students paraded around in their publication shirts, displaying catchy slogans and school colors to create a coordinated look that only heightened the competitive fervor. Some students went so far as to decorate their faces with temporary tattoos and face paint, while others opted for more extravagant garments like beaded necklaces, tutus and glow stick bracelets. 
With this year's convention, fashion trends became apparent as schools flooded the Palms Ballroom in spirit gear for Friday's pep rally. As each school dressed in their coordinating colors, groups held their bright orange FSPA foam fingers and flailed their teal and white pom-poms in the other hand. Despite the competition, journalists' FSPA pride called for a moment of unity between all competing districts.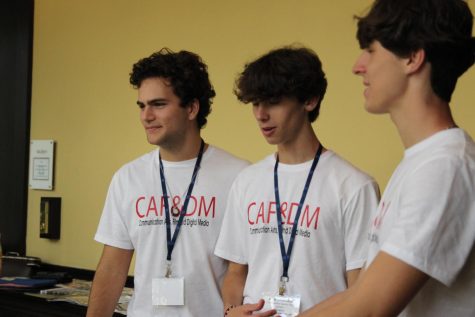 "I saw these girls come in today, and I had seen they cut the neck and styled their journalism t-shirts. They got the shirts today, and they're already rocking the shirts the way they want them. I think it shows that at a place like FSPA, everyone is so innovative and creative," junior Amalia Garrido said.
Regardless of their garments, all student journalists alike were spotted with tools from their respective fields. Becoming a fashion statement within itself, students carried tripods through the lobbies as others worked diligently to create written stories and scripts. Carrying a camera or a journal and pen, each creator combined function with fashion, only adding to their festive outfits.
How are you following the Stars Align theme?
Sorry, there was an error loading this poll.
For those in front of the camera, fashion at FSPA is even more crucial because their role requires the element of presentation. During the convention, the trend for these reporters of more professional clothing heavily juxtaposed their behind-the-scenes peers. Sporting slick pantsuits and collared polos, student journalists dressed to impress.
"The staff does a great job of dressing professionally, understanding that this is a state journalism conference. They're representing themselves amongst other student journalists across the state," Cavaleon advisor Ms. Zuniga said.
Starting the weekend off with a 'big bang', students at FSPA used this first day as a creative runway. Wearing creative attire and their corresponding gear, their passion has ripped through the seams and will continue to be seen throughout the weekend.
Leave a Comment
Your donation will support the student journalists of Coral Gables Senior High School. Your contribution will help us cover our annual website hosting costs.
About the Contributors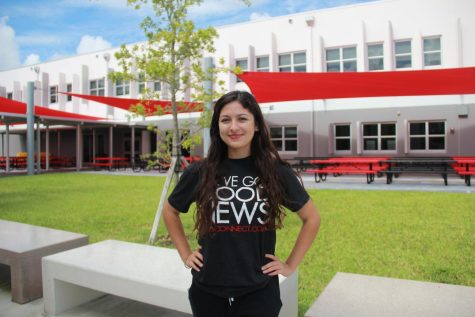 Sofia Cruz, Co-Editor-in-Chief
A rising senior in the International Baccalaureate program, Sofia Cruz is eager to start her fourth and final year as a member of CavsConnect. Returning...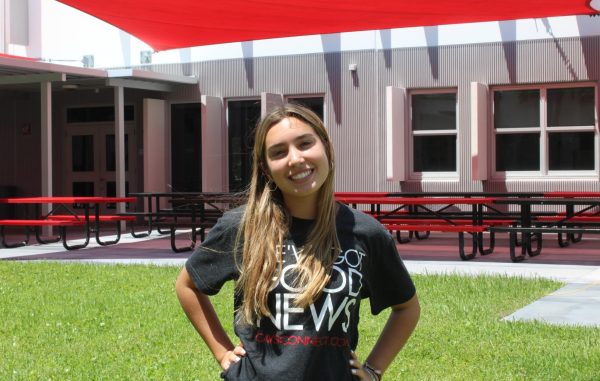 Angelina Morffi, CavsConnect Co-Editor-in-Chief
Junior Angelina Morffi has spent her past two years embodying the term, "school spirit," and it remains on the top of her agenda for her third year at...