Gables' Fifth Annual PolitiCare: Increasing Civic Engagement at Gables
The Political Activism and Civic Engagement club recently hosted its annual PolitiCare event, which has become a popular tradition at Coral Gables Senior High. Many teachers, particularly those in the social studies department, took their students to the gym on March 16 to hear from guest speakers and learn about interesting organizations serving our local community. The goal of the political symposium, which consisted of three guest speaker sessions, a resource fair and many other fun activities, was to educate students about how to become civically engaged, as well as how politics affects their everyday lives.
Despite multiple last-minute guest speaker cancellations, the PACE board was able to successfully continue the legacy of the student-run event. Indeed, during second period students heard from Miami-Dade County Deputy Mayor Jimmy Morales, who is also the chief operations officer of the county. Morales discussed his experiences in local government, explaining the differences between his past and current roles in detail. He provided numerous examples of actions students can take to have more of a say in local politics, including attending city hall meetings and emailing local representatives.
"The deputy mayor was a fantastic speaker who helped made PolitiCare a very exciting and enriching experience. The most interesting thing I learned from him was how small of an impact the national legislature has on the day to day lives of Americans. It is truly the people in local government that deal with community needs and tackle issues such as housing and education," junior Daphne Renoux said.
After the deputy mayor finished his speech and fielded questions, students participated in a yoga session with Ms. Kiely, the International Baccalaureate chemistry teacher. They learned different exercises, practiced mindfulness and were taught the importance of maintaining mental health through physical activity.
The speaker for fourth period was Jackie Kellogg, the Board president of the Marjory Stoneman Douglas Biscayne Nature Center. She led a discussion about important environmental initiatives such as permaculture, gardening and composting, urging the audience to take small but impactful actions to make our planet healthier. Kellogg also demonstrated how detrimental grass lawns are to the environment. She quizzed students on their knowledge of environmental topics throughout her speech, making it an interactive and engaging experience.
A Pilates session took place after Kellogg's speech, which tied in with the session's overall theme of physical wellbeing. The last 20 minutes of each event was dedicated to a Resource Fair. Tables were set up throughout the gym so that students could meet representatives of local organizations, such as the Biscayne Nature Center and the University of Miami Shark Research program, as well as board members of Gables clubs, such as Interact and Gables Earth.
"My favorite table that I visited was the Xavier Cortada Foundation table, which I found most interesting because they combined art and environmental activism to raise awareness about climate change. They also had a map that showed how you would be impacted by the rising sea levels based on your home address, which was a great way to show people the realities of what climate change will do," freshman Alyssa Dopico said.
"I let people who came to the Interact table know that it is easy to engage with the local community. I also asked them to write to their favorite charity or organization," junior Natalie Muniz said.
The final guest speaker was Beatriz Martinez-Peñalver, a licensed psychotherapist and the founder of Triumph, an organization that seeks to educate students about mental health. She shed a light on emotional literacy techniques students should implement in their everyday lives, such as manifestation, while also emphasizing the importance of understanding cognitive processes such as the placebo effect.
As for the final activity, it consisted of a lighthearted debate. Board members read out polarizing statements, such as "Cats are better than dogs", and instructed Cavaliers to stand on opposite sides of the room based whether they agreed or disagreed. The board later passed the mic to students, who were given the chance to explain their opinions.
After three eventful sessions filled with a combination of political discussions and civic engagement opportunities, PolitiCare came to an end. Cavaliers were able to interact with knowledgeable individuals on a variety of subjects, and the PACE board hopes to invite more policymakers next year.
Leave a Comment
Your donation will support the student journalists of Coral Gables Senior High School. Your contribution will help us cover our annual website hosting costs.
About the Contributor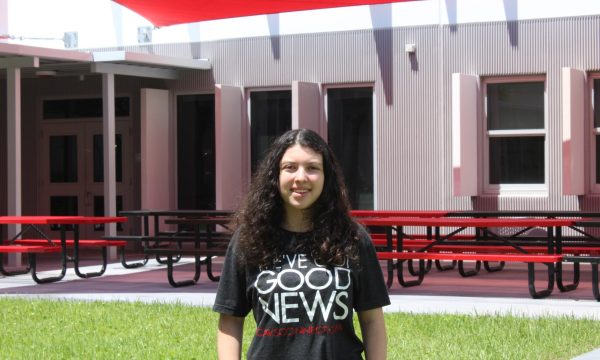 Emmanuelle Desmet, CavsConnect Opinion Editor
Emmanuelle "Emma" Desmet is a senior in the International Baccalaureate Program. This is her third year in CavsConnect and she is excited to gain more...