An Educational and Cultural Experience: Black History Month Show 2023
As the month of February rolls around, students, teachers and staff pay tribute to African Americans in the past by honoring their courageous acts. On Friday, March 3, classes were invited to the auditorium to enjoy the annual Coral Gables Senior High School's Black History Month Show. The production was a way for students and staff alike to express themselves through their various talents through the lens of Black culture.
Taking months of preparation, teachers such as Ms. Brown, Ms. Gray, Ms. Lefebvre, Ms. Sherry Proctor-Minor and Ms. Albury spent their lunches organizing the show. The teachers needed to figure out who they wanted to showcase and what they were going to perform; the main focus was on the arts with dances, poetry, monologues and songs. The next step was communicating with the student body to make it known that auditions were going to be held.
"As I was watching the show I remember being in awe that everything ran so smoothly, and all of the performances were executed perfectly. I loved being there and I was so glad that I was able to see it," freshman Ashlee Hernandez said.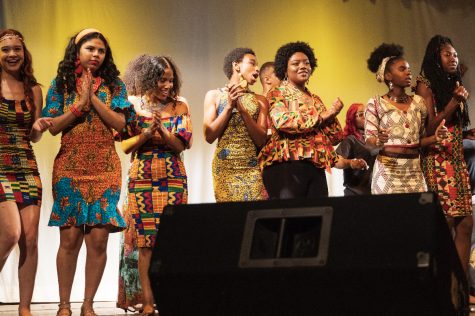 After the more concrete acts were decided, the teachers needed to see each of the participants individually to refine their performances. All meetings took place during school hours as teachers needed to work around the students with extracurricular activities and those who go home with the bus. The performers having such unique schedules made the job difficult, though teachers overcame this obstacle while still managing to organize the show.
"We looked for the kind of kids who were looking to showcase their talents. We tried to work with them to improve what they are doing because for the most part, none of them have been able to perform," Ms. Brown said.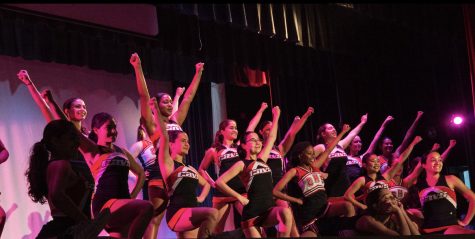 Starting at 1:15 p.m., the masters of ceremonies, juniors Dearte Butler and Khyairee Jackson, briefly introduced themselves and welcomed the audience, opening the show while the performers finished getting ready to step on stage. Kicking things off, members of Gables's very own band performed "Foxy Lady" by Jimi Hendrix and "Killing Me Softly" by Fugees. Following that was a dance routine by junior Jamar Howard, who received inspiration from other choreographers but organized the entire dance by himself.
"Once I got backstage for the dance I was really nervous because a lot of people I knew were there. However, once I was on stage and the curtains opened all the nerves I felt just left my body as I started dancing across the stage," junior Aysia Bryant said.
After Howard's dance, there was a brief intermission before Gables' chorus performed "Total Praise" by Richard Smallwood, settling the crowd. With a sudden change of pace, sophomore Kashone Beard and senior Kaylan Saintcloud set it off with a hip-hop dance. The next performance was by senior Michelle Guice, singing Gloria Gaynor's"I Will Survive" and hitting every note with ease. Guice left the crowd in preparation for our Gables Cheerleaders, who performed two sets. Up next, Howard and Guice returned to the stage and performed a miniature play, which steered away from all the dancing and singing momentarily, shedding light on other forms of art.
The show closed with students and teachers coming together for a fashion show. The clothes pieces were inspired by traditional African clothing, filled with bright colors and intricate designs. This closed off the 2023 Black History Month Show as yet another successful performance from Cavaliers that highlighted the importance of Black history.
Leave a Comment
Your donation will support the student journalists of Coral Gables Senior High School. Your contribution will help us cover our annual website hosting costs.
About the Contributors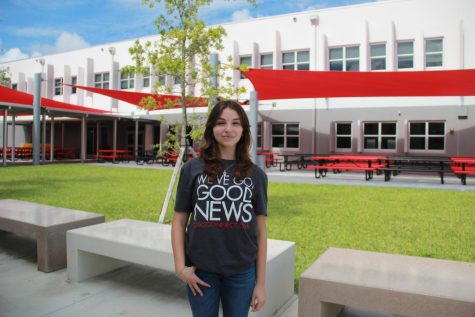 Melissa Hernandez, CavsConnect Staff Writer
Melissa Hernandez is a sophomore in the Academy of Finance at Coral Gables Senior High. Eager to leave Miami on a journey of higher education, she involves...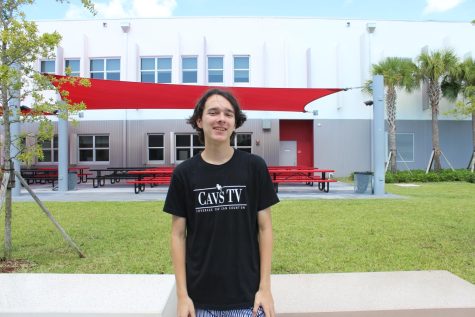 Griffin Byrd, CavsTV Staff
Griffin Byrd is currently a junior in the IB program. This is his second year in CavsTV and he hopes to make more memories with the new crew. Outside of...