FCCLA District Competitions Prove to Be a Culinary Success for Winning Chefs
As they prepared for their district competitions, student chefs sophomore Samantha 'Levi' Perez and junior Micheily Arduengo stood behind the counter, meticulously placing their ingredients on the cutting board. The room was filled with a tense silence as the timer counted down. With steady breaths, the chefs began to dice, determined to produce a dish that would leave a lasting impression on the judges.
On Jan. 27, Coral Gables Senior High's culinary pride rested on the shoulders of Perez and Arduengo as they went head-to-head with neighboring schools, including Coral Park Senior High, Coral Reef Senior High, Maritime and Science Technology Academy and John A. Ferguson Senior High for Family, Career and Community Leaders of America Cooking Competition's District X, hosted at Coral Park.
The FCCLA Cooking Competition is a culinary event that brings together young chefs from across states and their regional districts. With a passion for cooking and a drive to succeed, the culinary cooks showcase their skills and vie for the coveted title of FCCLA Winner. Within the competition, the Students Taking Action with Recognition Events program provides a unique platform for students to display their proficiencies in various areas, including culinary arts, fashion design and public speaking. The program also provides a platform for students to demonstrate their abilities and apply what they have learned in the classroom to real-world scenarios.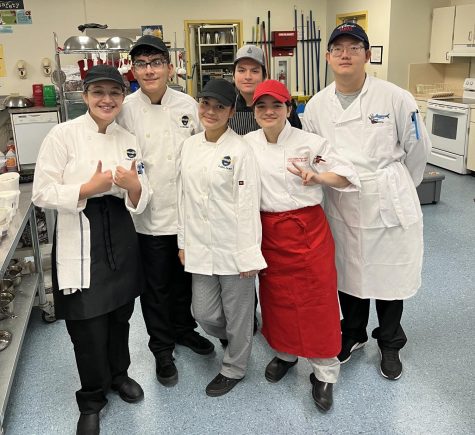 Under the guidance of culinary arts teachers, Ms. Vera and Mr. Flores-Interiano, Perez and Arduengo were able to use their plates as a creative outlet. Their technical and imaginative flair impressed the judges, leading to both of them earning a Gold Rating & Medal in the STAR Events. Arduengo was awarded in Baking and Pastry while Perez won in the Culinary Arts category.
"We started practicing for the FCCLA competitions in December. I broke down the menu to ensure that both Micheily and Samantha knew how to cook their necessary component. Once they knew how to cook their elements, I put the menu dishes together, and I timed them to get the feeling as if it was a real competition," Ms. Vera said.
For Arduengo's competition, this meant demonstrating her baking and pastry skills by preparing a recipe of a quick bread blueberry muffin, a choux cream puff with chantilly cream and a chocolate chip cookie all in two hours.
"While baking in front of the judges, I got very stressed, but then I had to remember what I practiced from Ms. Vera, to take a quick breath and come back to realization," junior Micheily Arduengo said.
Perez, on the other hand, was tasked to make a first-rate meal of chicken breast with a dijon sauce, rice pilaf, sautéed broccoli and an apple trifle dessert in an hour. After finishing her menu, Perez had an additional 20 minutes to clean up and pack everything into boxes.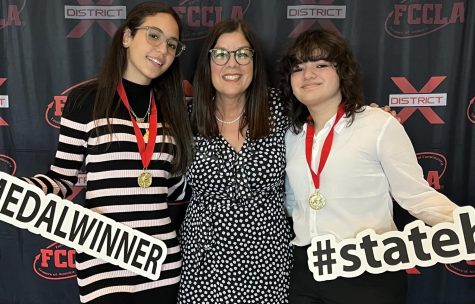 While dicing and mixing ingredients,  Perez and Arduengo were observed by four judges. They each were scored on their cleanliness, presentation of the plate, design, industrial culinary food techniques and equipment, scored out of 100 points.
After a week later of anticipation, on Feb. 10, students and culinary teachers were invited to attend a banquet at Renaissance Ballrooms in West Miami where Perez and Arduengo were pronounced first-place winners.
"I mostly remained calm. As Ms. Vera taught me to work in less time than I was given, I was able to complete the meal with a lot of time to spare. When I found out I won Gold for district competitions at the banquet with Micheily, I felt really proud and relieved that my hard work paid off for qualifying to states," sophomore Levi Perez said.
In less than a month away, the upcoming FCCLA Fla. State Leadership Conference is scheduled to take place on Mar. 25 to 27 at the DoubleTree by Hilton Sea World in Orlando. Both Perez and Arduengo will compete in their respective STAR event at the state level.
Arduengo's menu will feature a new element of frosted cake, extending her event to three hours. Meanwhile, Perez's given menu will feature a pan-seared teres major steak with garlic-herb butter, rice pilaf, sautéed asparagus and peach trifle. The training for states will begin next week, and Ms. Vera will coach the duo to perfect their dishes.
Their performance at the FCCLA District Competitions is just the beginning of their journey toward greater achievements in the industry. With a newfound sense of determination, they are ready to take on new challenges and opportunities that lie ahead, in hopes of making it to the FCCLA National Leadership Conference in Denver, Colo. on July 2.
Leave a Comment
Your donation will support the student journalists of Coral Gables Senior High School. Your contribution will help us cover our annual website hosting costs.
About the Contributor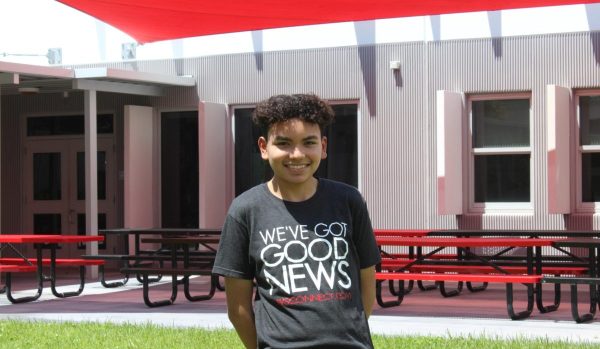 Aaron Rojas, CavsConnect Features Editor
Entering his third year in CavsConnect, Aaron Rojas is the newest editor on the team for Features. As he enters the ranks of rising juniors in the International...