AOF Guest Speakers Event: Volunteers Present Potential Career Paths
The Academy of Finance frequently hosts speaker events in which guests share their experiences of attaining success and enlighten students about possible career paths and their many advantages. During fourth period, participating Cavaliers heard from Coral Gables Publix manager Kassandra Alvarez and staffing specialist Iris Pacheco.
On Jan. 17, AOF students were invited to the auditorium to hear the presentation, which was essentially a pitch to convince students to work for Publix. The objective was for students to learn about the opportunities that only a 90-year-old company as widely respected as Publix could provide.
Alvarez was contacted for this event by AOF student Diego Rivera, who works at Publix and is managed by Alvarez. Rivera planned and orchestrated this event along with Ms. DePaola, who teaches the English component of the National Academy Foundation.
"
"The guest speakers showed that there is a clear career path for minors that stick with Publix and grow within the company. After all, everyone with a corporate position started out that way, even the CEO," sophomore Melissa Hernandez,"
— sophomore Melissa Hernandez
"The great thing about AOF is that after freshman year, students can opt for either a business/accounting route or an entrepreneurial path. This event perfectly showcased careers in both of these fields, and hopefully some students will consider summer internships with Publix," freshman Charlotte Nojaim said.
Alvarez spoke first, discussing her impressive career trajectory in detail. She began her career by working at Ferguson Senior High School, a business academy in Miami-Dade County Public Schools, and as a bagger at Publix. However, she grew with the company and evolved to a store manager position, in which she makes six figures.
Alvarez outlined the many ways Publix has given back to the community of South Florida. For example, the company went to vulnerable areas affected by Hurricane Ian and managed stores for small business owners as they dealt with damage to their homes and kept their families safe. In addition, because Publix is such an established organization, there are no employee layoffs.
Which Academy Are You?
Loading...
There was an error. Please try again.
"AOF tries to have one guest speaker a month, but we were lucky enough to get more presenters than usual this time. This event consisted of a main presentation in which the two associates spoke about their experience, followed by a more student-centered career pathway," AOF lead teacher Mr. Ball-lovera said.
Later, students were introduced to Iris Pacheco, a staffing specialist who works in Human Resources and collaborates closely with Publix. The crux of her occupation is that she opens up new stores and finds talented associates to fill them. She discussed how students can start as baggers at Publix and quickly climb up the ranks to whatever position they want. Publix has its own academies and certifications. Therefore, those who do not see themselves pursuing traditional schooling have ample opportunity to maintain a successful career at Publix.
However, students who want to go to college were ensured that the company would also have job opportunities for them. They were shown a flyer listing positions from A to Z, demonstrating that no matter what prospective college students want to study, Publix has the perfect corporate job for them.
"This presentation was very interesting and demonstrated that Publix is a company very much worth working for. A trajectory from clerk to store manager to district manager is clearly achievable, and many of these positions have higher salaries than police officers or teachers. The fact that Publix sends you to their school while simultaneously paying for your college tuition is another huge plus," AOF teacher Ms. DePaola said.
Leave a Comment
Your donation will support the student journalists of Coral Gables Senior High School. Your contribution will help us cover our annual website hosting costs.
About the Contributors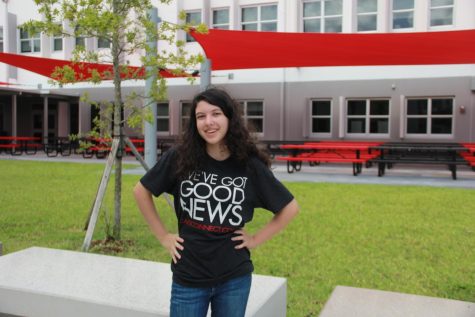 Emmanuelle Desmet, CavsConnect Staff Writer
Emmanuelle Desmet is a rising sophomore in the International Baccalaureate Program. She is a first-time member of CavsConnect and is excited to gain some...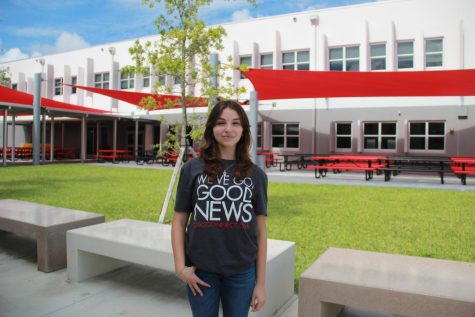 Melissa Hernandez, CavsConnect Staff Writer
Melissa Hernandez is a sophomore in the Academy of Finance at Coral Gables Senior High. Eager to leave Miami on a journey of higher education, she involves...