Out Of State College Tour: Breathtaking Boston Schools
As upperclassmen look for colleges that pique their interest, 23 students went to Boston, Mass. to tour eight colleges on the out-of-state college tour facilitated by Coral Gables Senior High School. The trip from Sunday, Nov. 6 to Friday, Nov. 11 was packed with information regarding various schools and gave Cavaliers an idea of what university they would like to study at for the next four years.
Day 1: Arrival and Massachusetts Institute of Technology
Students first visited the Massachusetts Institute of Technology, where they met with Gables alum Romulo Delgado for a tour. Starting at the Kresge Auditorium, Delgado led Cavaliers around the 168-acre campus located on the Charles River. One building that stood out was the Dome; meant to replicate the Pantheon, it is home to various engineering labs where students can build and test prototypes.
Day 2: Babson College and Tufts University
On the second day, students were driven 30 minutes outside of Boston to Babson College. Known for being the number one school for entrepreneurship in the nation, it is secluded from the city and has a more quiet environment than any of the schools closer to Boston, which is part of its suburban take on academics. Following Babson, students made their way to Tufts University, where they attended an information session before touring the upper and lower housing at Tufts.
Day 3: Fenway Park and Harvard University
"
Through following the itinerary and the guidance of our chaperones we efficiently navigated through Boston and had the opportunity to learn so much about the universities in the area and the unique aspects each school has to offer,
— junior Alexandra Roa
Tuesday started off with 20 students partaking in a special tour through Fenway Park, the home of the Red Sox, to get a better feel for Bostonian culture. This was followed by a visit to Harvard University in Cambridge, where Cavaliers saw highlights like the largest library in the world and the famous John Harvard statue. After explaining the origins of Harvard and recounting their enjoyable experience at the school, the tour guides showed Cavaliers the housing Harvard offers according to which major a student chooses to study. 
"I thought Fenway park was super interesting. It was really cool that we got to see an inside look of everything it has to offer. My favorite part was getting to see Mike Lowell's plaque in the hall of fame since he is a Gables alum. Also, our tour guide was super interactive and fun which added to the experience," junior Audrey Lezcano said. 
Day 4: Northeastern University and Emerson College 
Widely known for its vibrant campus, students navigated through Northeastern University on day four. This school is the top-rated school for the cooperative education program, which allows Northeastern students to explore the career they plan on pursuing while studying.
Following the tour through Northeastern, students immersed themselves in the 8-acre campus of Emerson College. A community where students and teachers all make an effort to become acquainted, Emerson was the first college in the United States to be devoted to art, connecting those dedicated to a craft.
Day 5: Boston University and Boston College 
Their first destination of day five lay at the heart of Boston, the home of the Terriers, Boston University. Gables alum Jasmine Senel directed the tour, taking students around Baystate Road,  "The BU Beach" on the Charles River, the George Sherman Union, the place for resources and studying and the Student Village, another area for student housing. The tour concluded at the end of campus, where the freshmen dorms and Nickerson Field stand. 
Making use of Boston's public transportation, students then made their way to Boston College. Upon the students' arrival, they met up with yet another alum, Abigail Felan, who gave students an exclusive tour of the freshman dorms. Following Felan, a tour guide spoke about the four different schools that make up BC and what makes each of them special. Shortly after, the students were directed towards Mcelroy's Common, one of the dining halls on campus.
"It was nice that all of the schools were different. It really helped me figure out what I didn't like, and what I need to look for when I apply for colleges," junior Sofia Felan said.
Day 6: Return to Miami 
Alas, the final day came and everyone took a flight back home to Miami. Some were excited to see their families, while others were longing to stay. However, everyone left the city with more knowledge when it came to applying to colleges and what to look for. Boston just might become a future home for our very own Cavaliers as they move on to the next chapter of their lives.  
Leave a Comment
Your donation will support the student journalists of Coral Gables Senior High School. Your contribution will help us cover our annual website hosting costs.
About the Contributor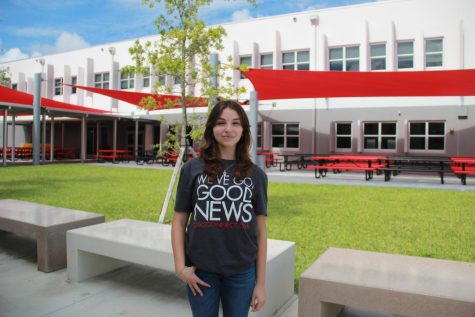 Melissa Hernandez, CavsConnect Staff Writer
Melissa Hernandez is a sophomore in the Academy of Finance at Coral Gables Senior High. Eager to leave Miami on a journey of higher education, she involves...