Hurricane Fiona Leaves Puerto Rico In Flooded Ruins
Recently hit by a hurricane, the island of Puerto Rico has been left in a state of destruction for the past few days. Hurricane Fiona was the first large-scale hurricane to hit the area since Hurricane Maria in 2017, which killed thousands and caused one of the largest blackouts in the history of the United States.
First hitting the southwestern region of Puerto Rico on Sept. 18, Hurricane Fiona struck the island as a Category 1 with maximum sustained winds of 115 miles per hour. In just the span of a couple of days, Fiona grew to a Category 3, leaving hundreds of homes and streets flooded and destroying virtually anything in its path.
The storm has brought immense amounts of precipitation to all regions of Puerto Rico, with local areas of southern Puerto Rico facing an average rainfall of about 20 inches, with rainfall in certain zones being as much as 35 inches. This intense shower has caused flooding through the island, wrecking vital facilities and buildings.
The destruction has caused an island-wide blackout not seen since the appearance of Hurricane Maria five years prior. Fiona not only left the majority of the population without homes, but it has also left 3.3 million Puerto Ricans without electricity for about two weeks. As of Sept. 30, an estimated 233,000 homes and other facilities have still been left without power despite Fiona's change of direction, heading towards the northeastern coast of Canada.
"I've seen so many pictures of the disaster that's happening in Puerto Rico in the past few weeks. I can't help but imagine the families that have been separated and broken because of all of this destruction caused by [Hurricane Fiona]. I hope that they can recover after dealing with so many hurricanes in the past few years," sophomore Taronish Unwalla said.
Fiona has also left other consequences for Puerto Rico and other nearby islands to act on. Despite the government's preparations after the destructive Hurricane Maria, the land of the islands has been reported by the United States Government Survey's Weather Division to be prone to landslides caused by mass erosion with 20% of the state being categorized as "high-risk."
"Being a Caribbean Hispanic, my family has been through their fair share of storms, and I can surely say that it is a grueling experience. What is going on in Puerto Rico right now, on top of the other hurricane [Ian], is extremely intense for everyone who is going through it. I would like to send best wishes to all those who have been/are currently being affected by Hurricane Fiona," junior Luis Mora said.
According to the Federal Emergency Management Agency, thousands have been currently reported as injured or missing in this natural disaster with there being four official direct casualties so far.
As officials continue to update the public with ongoing information about the disaster and its effects, the government and other private organizations have begun to respond in their own ways. In a press conference on Sept. 20, Puerto Rican governor, Pedro Pierluisi revealed that U.S. President Joe Biden issued a major disaster declaration through FEMA to help the territory with recuperation. This declaration would allow access to federal funds for usage in Puerto Rico.
In addition, private organizations such as Americares and the Red Cross have set up fundraisers for donations to those whose lives have been affected by the hurricane, offering supplies to sustain them during a period of recovery. Throughout the next few weeks, authorities will be monitoring and reporting the situation as Puerto Rico recovers from its most recent hurricane.
Leave a Comment
Your donation will support the student journalists of Coral Gables Senior High School. Your contribution will help us cover our annual website hosting costs.
About the Writer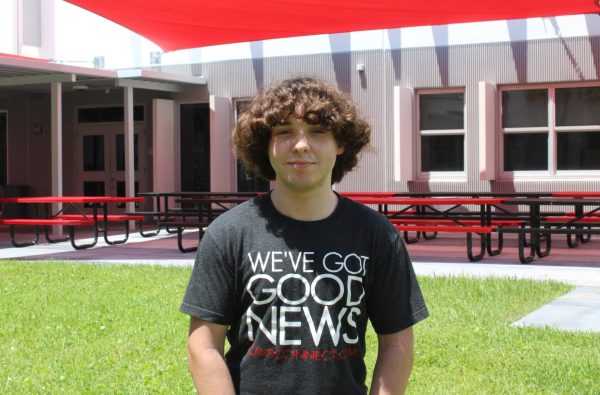 Anthony Fajardo, CavsConnect Staff Writer
Anthony Fajardo, a junior in the International Baccalaureate magnet program at Coral Gables Senior High School, is gearing up for his third year as a writer...