Troupe 0476's Gables Shorts!
Gables Shorts is one of the theater traditions annually held at Coral Gables Senior High. It is an immersive experience of plays that help develop the significance of theater to students. This year, it was held on Monday, Apr. 1 at 3:00 pm and Wednesday, Apr. 3 at 6:30 pm. The students were assigned to write plays over Winter Break in small groups or individually. Then, the students read their skits in class and voted on which ones should be performed. The show was comprised of six plays divided into two acts with a short intermission.
"It is my favorite thing that we do all year because it really explores the creativity our students have in writing as well as in acting and directing. I think everyone learns so much from the process, and it is really wonderful," Ms. Barrow said.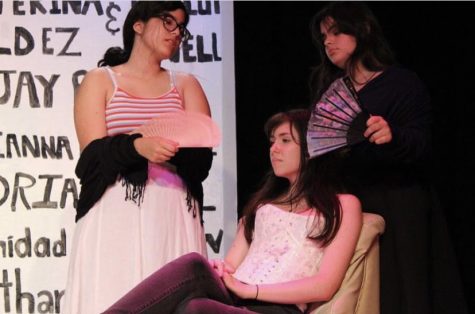 The show opened up with "Une Erreur de Passion D'Amour et Bagguetes," which was written by Katerina Valdes. It was a humorous play in which Jerome, a young general of the French military without a title, is in love with the Lady Pauline, an air-headed aristocrat in Louis XIV's court. In an attempt to be a wingman, Jean Luke approaches the wrong girl, Nicolette. Lady Pauline is left heartbroken and confused by this slight misunderstanding. Monsieur Pierre has a fondness for Nicolette and is jealous of Jerome, which leads to a duel between the two. It was performed by Van Galex, Jorge Valero, Bryan Mejia, Jay Busteed, Timothy Lamb, Trinidad McGraw, Ethan Tolpin, Arianna Rodriguez, Lucianne Vivas, Estefany Busto, Marcel Paba and Isabella Martell.
It was followed by Jay Busteed's "Act of Apostles," a play that takes place at a Christian school. Whilst doing a prayer circle, one of the girls reveals that her cat has died, and it was God's will. Two other girls debate that because they are not religious and cause a fight in which the nun is slapped accidentally. The five girls involved get sent to the office to talk about the conflict. It stirred laughter within the audience members as the plot progressed and developed. The Troupe members in it were: Isabella D'Ottone, Nayelis Cardenas, Kylie Coulombe, Anna De La O, McCall Horton, Ariadne Herrera, Julissa Lugos, Arianna Rodriguez, Isabella Martell, Estefany Busto and Bridget Babani.
"Let's Talk About Boris," a play written by Arianna Rodriguez, was about the main character's mom setting her up on a date with a European man names Boris. The plot takes a turn when she meets up with him and he reveals his abnormal personality and way of interacting with the world. The lighthearted and humorous play provoked laughter and happiness among the audience members. It was performed by Ivan Cajina, Estefany Busto, Erick Diaz, Makayla Bell, Katerina Valdes, Yoel Rodriguez, Ethan Tolpin and Arianna Rodriguez.
The intermission followed which gave the audience the ability to take in the three plays they watched thus far and discuss it with their friends. The responses were all positive, and the audience was excited for the last three to go on.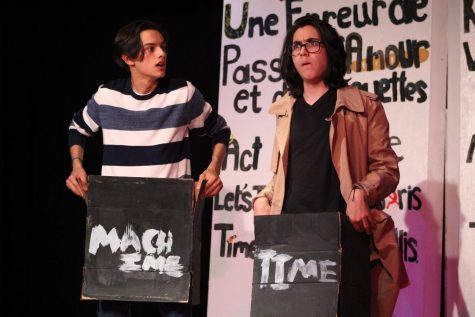 Junior Adrian Vidal wrote a play titled "Time Travel and Syphilis" in which two friends travel back to the 90's to see Biggie Smalls. All three of them time travel to various different time periods and ultimately end up in colonial times where Biggie dies of syphilis. This comical play brought joy and laughter all throughout and left the audience feeling satisfied. It was performed by Ivan Cajina, Erick Diaz, Timothy Lamb, Jorge Valero, Ivan Perez, Phoenix Pierre, Neal Salgado and Angie Lopez. "I was really proud of all my actors because they really brought my vision to life," junior Adrian Vidal said.
"Frog" was a gripping play written by Trinidad McGraw in which a girl is recounting the story of a day she wishes had gone differently; specifically, she wishes she had never picked up her phone and texted a boy back. This moving performance was given by Kylie Coulombe, Ivanna Barberis, McCall Horton, DJ Lopez and Yoel Rodriguez.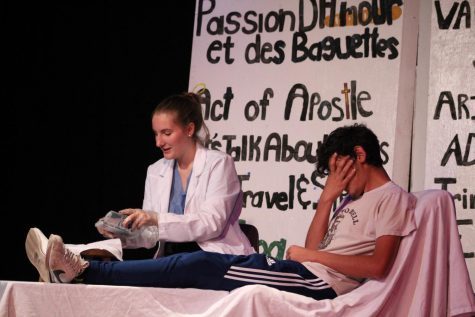 Gables Shorts concluded with Ethan Tolpin's "Nightmare DDS," in which a guy goes to the dentist and is given laughing gas which allows him to envision his own teeth talking to him about the horrors that are about to happen to them. "I directed it, which is something I have never done before, and they did it perfectly," senior Ethan Tolpin said. This comical performance was given by Isabella D'Ottone, Ivan Perez, Lia Rodriguez, Van Galex, Bridget Babani and Adrian Vidal.
Throughout the whole show, the audience was laughing and thoroughly enjoying the plays in Gables Shorts. There was not a dull moment either day that the show was performed. Despite the minor difficulties they had on Monday, all the glitches had been resolved by their second show.
"Watching the Gables Shorts show was an entertaining experience for the most part. I had gone the first day, which does not compare to the second day, but seeing my friends embody different personalities and kiss someone other than their significant other in order to stay true to the art was phenomenal. The time and dedication that Troupe 0476 put into their shows has never faltered, and you can see it as an audience member and even as an actor," junior Ruben Escobar said.
Like all the previous years, the show was a hit among the audience. The plays ranged from comical to serious, which allowed the audience to see the versatility within the actors. Everyone in Troupe is proud of their performances and was happy to see a full house. Their shows are the ones you do not want to miss!