Bridge 4 Peace Succeeds in Raising Money for BLUE Missions Organization
The International Baccalaureate Honor Society's (IBHS) annual Bridge 4 Peace charity dinner was hosted on Feb. 15, 2018 at the Coral Gables Museum. This year's profits will go to the BLUE Missions organization that works to provide underdeveloped communities in Latin America with access to clean water and sanitation. The cause was introduced by Juliana Bonativa, an IB sophomore who had previously attended a BLUE Missions service trip and was deeply impacted by the work they did. As a result of her dedication to the cause and the support IBHS was able to provide, the annual dinner was able to raise over $12,000 to meet their goal.
IBHS President Yanik Ariste says that the cause was chosen "because of how impactful it is; providing the residents of different Dominican towns with latrines allows them access to clean water which is a very basic need. Additionally, these latrines are low maintenance as they work for ten years, and after ten years BLUE Missions gives the residents the pump to make it work for another ten."
The night began with music, food and the annual cultural fashion show, which featured attire from Israel, France, Italy, Ecuador and Mexico. Bonavita provided heartwarming words about what the cause means to her and then the dancing began.
"When I went to the Dominican Republic with BLUE, I was touched by how kind and generous every family was to me. They had absolutely nothing but were always so happy. When I gave my speech I wanted people to think about how great their lives are. Even though we deal with problems constantly, we are all given so much that the children of the Dominican Republic don't have," sophomore Juliana Bonavita said.
In past years, guests have spent the remainder of the night eating and dancing to music played by a DJ. This year, however, the club hired a band, Castafellas, that played music throughout the second half of the night, much to the delight of all who had grown tired of the same old tunes. Guests were provided the opportunity to take pictures with their friends, partake in an auction and get Henna tattoos done. The entertainment, just like the night, proved to be a success, and all those in attendance expressed their excitement at the prospect of having future events feature live music and dancing as well.
View photos from the event below:
About the Contributor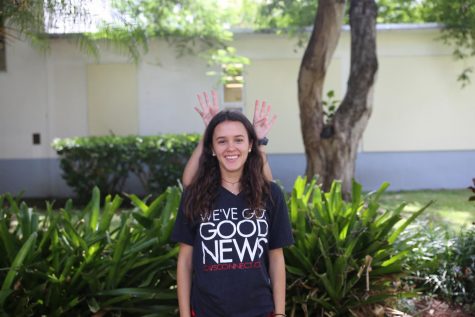 Natalia Torres, Copy Editor
Natalia,"Nati", Torres is a senior in the International Baccalaureate (IB) program and is very excited to continue at Gables as part of the CavsConnect...