It's Official: The IB Class of 2019 Gets Pinned!
On Jan. 24, 2018, the International Baccalaureate (IB) class of 2019 was officially inducted into the International Baccalaureate Diploma Program. The ceremony is a long standing tradition at Coral Gables Senior High School, as well as many other IB institutions around the world. It serves not only to officially welcome students to the 2-year program, but also to honor what they have achieved thus far. Before the ceremony started, students and their parents were invited to enjoy some drinks and snacks while listening to jazz music, which was provided by the school's jazz band.
"I think it was cool to see how the event was hosted and run mostly by students. It was easy to see how much everyone cared about each other, especially how some of the students gave speeches to the juniors. I think it's an incredible ceremony because it rewards students for all their stress and laboring," sophomore Alexander Sutton said.
To start off the night, the mistresses of ceremonies, IB seniors Yanik Ariste and Catherine Healy, welcomed JROTC, Color Guard and Divaaz (Gables' musical group) Additionally, as one of the IB program's mission statements is to help create a generation of students with intercultural understanding, several IB students congratulated and greeted the class of 2019 in different languages including the following: German, Hebrew, Catalan, Spanish, French, Swedish, Arabic, Slovenian, Armenian, Portuguese, Italian and Dutch. Afterwards, an inspirational speech was given by Senior Class President Savannah Payne. Payne, an IB senior, emphasized the importance of never giving up, especially when it comes to the program.
"Payne's speech really did motivate me to continue with the IB program since she is a senior who has been through the same struggle and is about to graduate. It was able to relieve the overwhelming stress I had about the program and inspire me to continue pushing forward for the following year and a half," junior Nidia Volmar said.
Following Payne's speech, Principal Costa addressed the IB class of 2019 and expressed how proud he is of all they have accomplished. Guest speaker Mark A. Trowbridge, President and CEO of the Coral Gables Chamber of Commerce, gave a speech that reinforced IB's mission. He expressed his thoughts on the proficiency of the program and how students will definitely have an impact on the future. The last speech of the night was provided by the IB coordinator, Mrs. Van Wyk, who congratulated the students for getting this far. After her speech, students made their way to the stage to be pinned by IB seniors and given a white rose. Once everyone was pinned, the IB class of 2019 took a group photo and sang the Alma Mater to close off the ceremony.
Leave a Comment
Your donation will support the student journalists of Coral Gables Senior High School. Your contribution will help us cover our annual website hosting costs.
About the Writer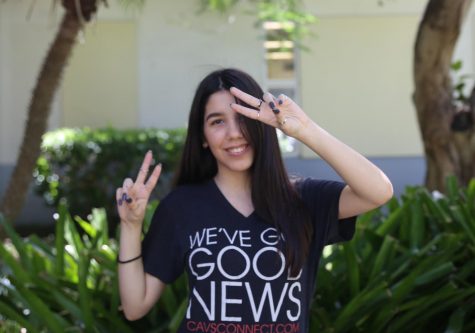 Yeileny Lopez, Staff Writer
Yeileny Lopez, also known as Lenny, is a proud senior in the International Baccalaureate (IB) program at Coral Gables Senior High. She is extremely grateful...