North Korea Reacts To Ulchi-Freedom Guardian Military Exercise
On August 21, the annual 10-day military exercise between the Republic of Korea and the United States (also called the Ulchi-Freedom Guardian) began. This exercise has been in place since 1976 and was initiated to enhance both countries' readiness for war.  The Ulchi-Freedom Guardian focuses on training commanders and staff from both nations in planning, command and control operations, intelligence, logistics and personnel procedures required for the successful defense of the Republic of Korea against its foes. These operations have not been postponed or removed by the current and past threats the Democratic People's Republic of Korea has repeatedly made. North Korea has mentioned on numerous accounts how the joint exercise can be viewed as "provocative and hostile," but they have not successfully gotten in the way of Ulchi Freedom Guardian or other joint exercises.
"Although Kim Jong Un may seem unpredictable, the majority of his threats have been fictitious. With an increase of threats, however, Jong Un is certain to react. Yet I feel little to no concern since this has occurred in the past with Yong Un's predecessor," junior Alain Perez said.
Kim Jong Un is not pleased that the joint exercise has taken place once again, as it demonstrates the ways in which the United States is aiding South Korea's military.  The U.S. heavily influences South Korea in all aspects of military training, in order to prepare them in case North Korea were to invade their borders. In total, there are 50,000 South Korean military troops and 17,500 U.S. troops, one of the largest joint exercises to ever take place. The personnel is heavily trained in defensive and computerized techniques that may one day come in handy.
"It's going to cause problems with North Korea either way. They've always objected to our military troops on the South Korean borders and our military presence, but it is a great way to keep the South Koreans on their toes and ready at all times," junior Christian Ochoa said.
North Korean state-run newspaper Rodong Sinmun said, "it has been made clear that the Korean People's Army is keeping a high alert, fully ready to contain the enemies. It will take resolute steps the moment even a slight sign of the preventive war is spotted." China has also chimed in on recent events saying that the United States and South Korea have made the wrong decision by continuing "The drill will definitely provoke Pyongyang more, and Pyongyang is expected to make a more radical response" said China's Global Times newspaper.  Although the United States has been made aware of the commentary, they will continue with their exercise until August 31, 2017, when this year's Ulchi-Freedom Guardian comes to an end.
About the Contributor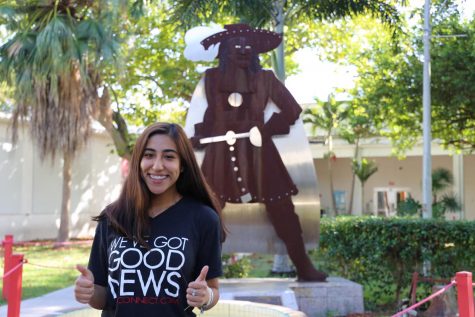 Jesse Zambrano, Spotlights Editor
Jesse Zambrano is a senior in the International Baccalaureate (IB) program. When she arrived to the US, it was clear to Zambrano how important it was to...