Kick-off in South Korea: The 2018 Winter Olympic Games Begin
The Olympics have been, since the age of the Ancient Greeks, the biggest test for determining the world's greatest athletes. Often overshadowed by the Summer Olympics, the Winter Games are, nonetheless, equal in excitement and the demonstration of true human talent. Departing from the Black Sea, the Winter Olympics have landed in one of the most dynamic cities in the region, Pyeongchang, South Korea. The decision to hold the games in South Korea comes on the back of weeks of diplomatic talks with their hostile northern neighbor. In light of these discussions, the floor of the stadium in Pyeongchang was adorned with a massive white flag sporting a unified Korean peninsula. This bold move set the stage for a truly unforgettable Olympics.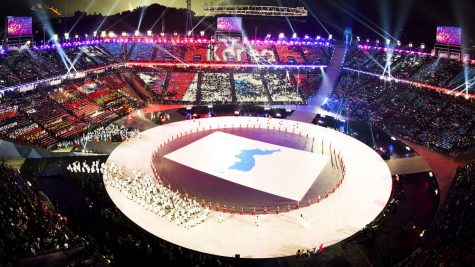 In keeping with the precision and order of the Olympics, the opening ceremonies began without a hitch and displayed a wide variety of aspects of Korean culture. Among them was a young Korean teen wearing a traditional Hanbok dress while singing an equally traditional song. However, as the ceremony unfolded, the seamless blend of tradition and modernity became evident with a traditional Korean drumming group performing under the backdrop of an impressive laser show. The end of the ceremony featured notable K-Pop groups, perhaps Korea's most famous export, performing their signature songs.
"My family and I never miss a single Olympics. It brings us so much joy to see our country showing its greatness to the world," junior Adriana Molinares said.
As the Olympians began to file in onto the stage of the floor, so too did the faces of the most prominent athletes. The United States' flag bearer was Erin Hamlin, the only female luger from the U.S. to have won a medal in her respective event. Not far from Hamlin were the Chen siblings, each slated to win gold in men and women's figure skating respectively. Also included in the delegation were celebrities Shaun White and Lindsey Vonn, both at the top of their fields.
"It was insane for me to see Shaun White at the Olympics. I had always admired him as a child and can't wait to see him in his events," junior Robert Kirk said.
The Olympics in Pyeongchang are unlike any seen before. With South Korea being one of the most technologically advanced countries, and holding the game under the auspices of political cooperation and athleticism, the games are sure to make an even greater name for the Asian nation.