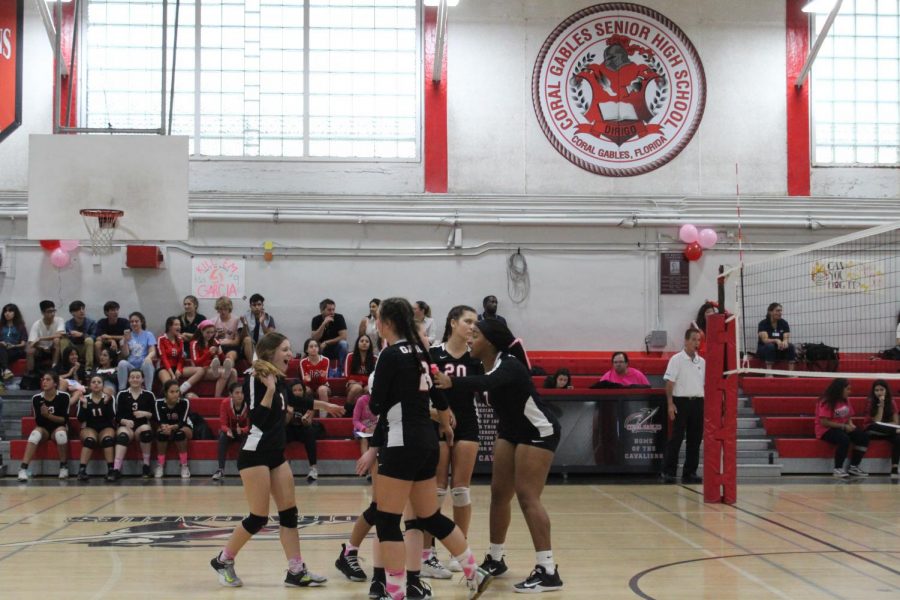 Lady Cavaliers lose in last, but well-fought home game
Despite loss, seniors say goodbye in the last game in Gables gym.
As the stands began to fill, the Lady Cavaliers Varsity Volleyball team warm up for their last home game of the season against the MAST Academy Makos on Oct. 11. During the warm-up led by coach Monica DeLaVega, the girls prepared themselves by doing arm exercises and doing dynamics, that are meant to get them pumped and ready to win a challenging match ahead.
The game kicked off at 5:00 p.m and the Cavaliers immediately took control of the match. The game started with the Cavaliers serving first. Their strong and confident style of play became evident when as a team they were able to dig up difficult spikes and quickly convert them into back to points in the 13th minute. While the away team was able rack up points from their play, Gables dominated throughout, winning the first set 22-19.
Taking control of the ball  with communication and smart plays, the Makos took control of the 2nd set.  The Cavaliers tried to combat their more aggressive strategy but ultimately were too late as the Makos took the second set with 11-22 points. This first win from the Makos was a wake-up call for the home team. 
The home team took control of the 3rd set with a 3-point winning streak. Later on the Makos scored more points with a gradual decline of enthusiasm of the home team. The Makos dictated this set with 9-25 points the 3rd set. The home team with their spirits up and giving their bests efforts tried to stay positive.
 The Cavaliers did not spare any time to score with 5 instant points in the 4th and final set. These shots were not taken lightly by the Makos, who quickly overcame the slight setback of the match, with a 25 point win against the home team. Making the Cavaliers lose the final set to an 11- 25 points and the entire match.
"It's sad, because its my last time playing this season here but I was really excited because I got to play one last time with the girls I have been  playing with for the longest time," senior Renata Ruiz said.
Gables ended this game with a heartwarming goodbye to the seniors of the team as it was their last season. They had a heart warming tribute to the team's seniors, Ginna Esposito, Marina Tischenkel, Isabella Garcia and team captain Renata Ruiz. They were given personalized gifts by their teammates as a commemoration of their time on the team.
"The team has an amazing bond off the court," Sophomore Emma Hardie said. "While on the court we bring each other down a lot and we could improve [for next season] majorly if we had that special bond on the court as well."