Mrs. Orbis Pursues her Next Chapter with the National Academy Foundation
In recent years, Coral Gables Senior High's Academy of Finance has gained much acclaim for its vast social media presence and multitude of events in conjunction with local and national businesses. Although this success is perpetuated by the outstanding students that complete the program year after year, much of its recent praise can be attributed to who worked behind the scenes: that is, AOF Leader Mrs. Orbis, formerly known as Ms. Lopez. This year, Orbis decided to take the leap and transition from leading the academy at Gables to working with nearly all of the nation's National Academies.
Prior to her time at Gables, she worked at the Credit Union in a managerial role that connected her to the school's financial aspects and familiarized her with some of the school's administration. When the school began looking for a new algebra 1 teacher in 2017, Orbis' financial experience made her a perfect candidate for the math department's newest addition.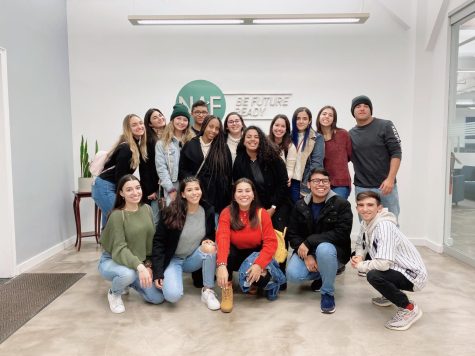 From the math department, she moved up in the ranks and eventually continued her previous career in finance at our school's branch of AOF. As she persisted through her time at Gables, she used her leadership in the academy to open students up to a world of opportunity. In that, Orbis promoted financial literacy in creative ways and laid the groundwork for financial opportunities, such as the annual Mad City Money simulation and deriving connections for students with local small businesses.
"Ms. Lopez was dedicated and passionate about making sure her students understood the material. She was a very firm believer in tough love, and I needed someone to be tough with me so she took me under her wing. This eventually led me to become President of AOF because she threw every task at me and gave constructive feedback so I could improve not only as a student, but as a leader," senior Diego Moran said.
As she continued to promote AOF, Orbis began elevating the perception of that academy at Gables. In fact, Orbis considers her biggest accomplishment as "making a name for the Academy of Finance at Gables". She aimed to make Gables a more inclusive environment for students in all academies, and her work with AOF did just that. Because of her work with AOF and social media presence in connection to the National Academy Foundation, Orbis was on the radar of the foundation. When they began looking for new staff members to work directly with NAF, she was immediately contacted. Once approached though, she was unsure whether or not she was ready to make this change.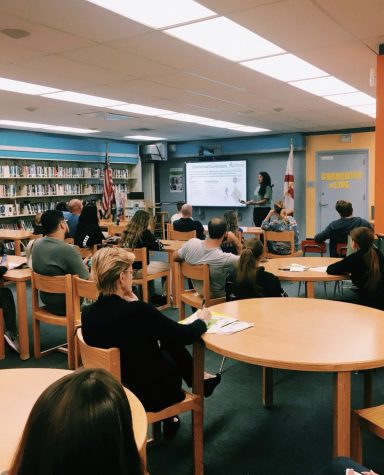 "It was hard to say yes because your heart is torn between doing what you love and still doing what you love, but in a very different way," former teacher Mrs. Orbis said.
Upon further reflection, she realized she had nothing to lose by applying for the position. Once she completed the process and was offered the position, Orbis realized that accepting it would not only mean personal growth for her, but she would also be able to expand upon her work at Gables to students like hers across the country.
Even though she knew this was an offer she could not refuse, what she misses most about Gables is her direct connection to her students. "I miss my students. I miss engaging with you all, and hearing first-hand all of the things that come with being a high school student," former teacher Mrs. Orbis said.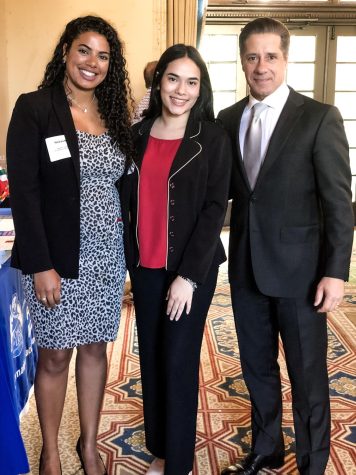 Currently, Orbis works remotely with NAF, establishing her connections with the partner schools and organizations over zoom calls and email correspondences. However, when NAF resumes travel, she plans to visit a new installment of their engineering academy that was recently established in Puerto Rico, along with checking in on some of the company's other domestic branches. With said visits, she would be able to gain the personal connections to students that she loved during her time at Gables.
"I'll still interact with students, just in a very different way than I did before," Lopez said.
As Orbis continues to learn and grow through her position with NAF, she hopes to maintain the lessons she learned during her time at Gables. Although she took a leap of faith in pursuing the next chapter in her career, being able to continue to impact the lives of students — Gables and otherwise — makes the choice worthwhile.
"I am still rooting for you, and here to help in any way shape or form. I am a phone call, email or DM away, and I would love to still see what you accomplish in life; I am so proud no matter what you do. I haven't forgotten about you, and I hope you all know I will always be here to help," former teacher Mrs. Orbis said.