Cavs Brave the Cold on OOSCT
Hang on for a minute...we're trying to find some more stories you might like.
As junior year responsibilities begin to pile up and senior year quickly approaches, college seems to be a common topic of conversation among most students. Every year, Coral Gables Senior High hosts an out-of-state college tour (OOSCT) to facilitate the college process and introduce students to what the next four years of their lives could look like. The trip is typically planned by the junior class board and aims for eleventh graders to attend, although the excursion is technically open to all grade levels. Additionally, the location of the college tour changes every year based on a poll conducted by the junior officers at the end of sophomore year with the goal to visit a region where most of the class will be interested in the universities. The class of 2019 chose the Mid-Atlantic region that allowed for ten different colleges within Baltimore, Washington, D.C. and Virginia to open their doors for Gables. The ten schools were: Johns Hopkins University, Goucher University, University of Maryland, Georgetown University, George Washington University, George Mason University, American University, University of Richmond, University of Virginia and William & Mary. The trip took place from Nov. 9-16. During the seven-day trip, students visited a variety of museums, renowned restaurants and even enjoyed watching one of the longest-running non-musical plays in the world!
"Planning college tour was a big task to take on, but with the collaboration of the whole junior board, we were able to make it happen. As for the trip itself, it was an amazing experience that allowed us to get a sneak peek into the world of college life and definitely helped me see what I want to study more clearly," junior Alfredo Wolfermann said.
Baltimore, Maryland (Day 1, 2 & 3)
The trip started off in Baltimore, Maryland, where the temperature dropped to 20 degrees Fahrenheit as the students visited Johns Hopkins, Goucher College and the University of Maryland. All three schools gave the students a campus tour and information sessions where students met with representatives from the Admissions Office that would elaborate on what the application process is like for each distinct school. Every campus tour guide showed the students the different dorm halls, dining areas and classrooms; however, each school had something uniquely memorable. Johns Hopkins emphasized their undergraduate research initiatives and well-maintained laboratories. Meanwhile, the University of Maryland, in addition to their unmatched academic opportunities, focused on their lingering mascot traditions and vivacious school spirit. Goucher College stood out to most students with their requirement for all undergraduate students to study abroad and their deluxe, recently renovated dorm halls for freshmen. The students' visit to the Dime Ale House was also noteworthy with the restaurants' live music and scrumptious chocolate brownies. Although the temperature dropped in Maryland, the palatable dining and exceptional scholarly experiences gave the trip a memorable start!
Washington, District of Columbia (Day 4, 5 & 6)
In the nation's very own capital, the OOSCT participants enjoyed multiple museums and tours of well-known institutions. Seeing that colleges do not typically provide visitors tours on Sundays, the students and chaperones took advantage to roam through the streets of D.C. and visited the American History Museum, The Newseum, Holocaust Museum and the National Museum of African History and Culture. After learning more about different cultures and American history, the students toured the second oldest college in the nation: Georgetown University. At Georgetown, students were in awe of the archaic architecture that perfectly mixes in with its young attendees. The tour guides informed the students on some of the Hoya traditions and even took them to their unique Free Speech Patio, where thousands of student organizations gather daily. After the school tour, the students did not forget to visit the famous Georgetown Cupcakes! Then, for a change of scenery, the students toured the city-centered George Washington University (GW). Although the campus is dispersed throughout multiple blocks in the area, GW's tour guide highlighted how the school's location has helped it render a multitude of valuable internship opportunities for students in different fields and notable keynote speakers. Following GW, the students visited George Mason University, where the Admission Office representative spoke about their multitude of different scholarship opportunities and study abroad efforts for all undergraduate students. To top it all off, the participants visited American University (AU), a school that prides itself in its students' political activity and academic achievements. American University was memorable for its suburban campus that is only a few minutes from D.C., where plenty of AU students have jobs or internships. After OOSCT students finished all their school tours in Washington D.C., they enjoyed a theatrical performance at the John F. Kennedy Center for the Arts and a night tour of various historical monuments. On their last night, students and chaperones laughed in sync as they enjoyed Sheer Madness, a comedy murder mystery show that has been around for over 50 years.
Richmond, Charlottesville, Williamsburg, Virginia (Day 6 & 7)
After soaking in the beautiful sites of the Mid-Atlantic, OOSCT attendees headed towards more quaint and colonial towns. First, the students visited a school founded by Thomas Jefferson: the University of Virginia (UVA). UVA appealed to many of OOSCT students because of its ample campus and academic opportunities as well as school spirit. Then, the students toured the University of Richmond: the home of the Spiders. The college's Admissions Office representative stressed how the school's student body of 3,000 allowed for plenty of research funding solely for undergraduate students; in fact, the school guarantees all of its students $4,000 every year for any research or study abroad opportunity. To close up the curtains, the final college visit was William & Mary. The picturesque college is situated in one of the most historic towns in the nation—Williamsburg, Virginia. After the students toured the campus and were informed of all the school's educational advantages, they toured colonial Williamsburg—which has sites such as cemeteries, prisons and even houses with bullet holes that date back to the Revolutionary War!
"Every part of the trip was a blast. From the road trips to the college visits, every moment was truly unforgettable. College tour definitely gave a feel for the kind of campus environment I would like to be in. Also, the trip was very well planned and truly allowed us to have both recreational time for museums and college visits," junior Yeinely Mirabal said.
From city to town, the OOSCT was undoubtedly a learning experience for every attendee. Not only did students become more familiar with the kind of college campus they are looking for, but also were exposed to the application process from various Admission Office representatives. Additionally, the students enjoyed a multitude of cultural experiences to commemorate their trip. It is safe to say that although every year the location of the trip changes, one aspect of the trip remains unaltered: the joyful memories it creates for every individual.
Click here to see a video of the trip through the lens of one student!

About the Contributors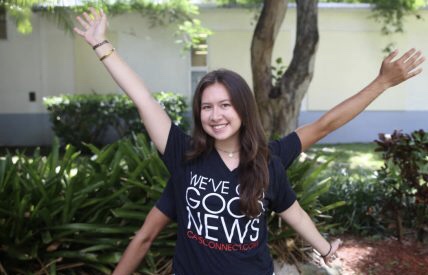 Maria F. Estrada, Editor-in-Chief
Maria Estrada is a senior in the International Baccalaureate program at Coral Gables Senior High who loves a good debate and cup of coffee. As her role as Editor-in-Chief begins, she hopes to make the most out of this next school year and to execute leadership with a cheerful attitude. She looks forward to growing as an individual and learning from her new peers as the publication prepares to end the year with numerous awards. Estrada is a vivacious soul who treasures kindness and strives to advocate on behalf of minorities as a future immigration lawyer.  Despite her young age, Estrada is extremely passionate towards journalism and anything related to history, politics, and legal studies. During her spare time she enjoys making people smile, photography, fashion, volunteering, keep up with the news, campaigning, spending time with loved ones, dancing, and traveling. Estrada thoroughly enjoys any opportunity that is presented to her which gives her a chance to explore a new skill, as she is open to the thought of expanding beyond her comfort zone. As an extrovert, Maria is fond of meeting new people and building meaningful friendships that surround her with genuine and supportive confidants.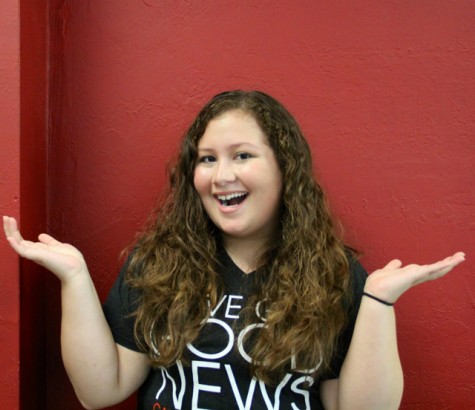 Maria Estrada, Spanish Editor
Maria Estrada is a diligent senior in the International Baccalaureate Academy at Coral Gables Senior High School.  As an exuberant and vivacious spirit, Maria is always ready to embark on a new adventure. Maria's unquenchable thirst for literature can be portrayed through her participation in CavsConnect, where she genuinely enjoys reporting for her fellow Cavaliers. Maria puts forth maximum dedication in whatever she does, because from what she was taught, that's what matters the most.
When she isn't studying for the next atrocious exam or when her nose isn't buried in an Ernest Hemingway novel, Maria can be easily found preparing for an upcoming monologue or scene. Besides being academically involved, Maria holds a colossal appreciation for the arts. She's a thespian at heart and the stage is her second home. Her love for the performing arts gives her an escape from her hectic schedule. When trying to unwind after a long day, you can find her curled up indulging in her greatest addiction, Netflix, or reading some William Shakespeare. Maria also enjoys spending time with her family and magnificent friends. She hopes to accumulate a myriad of pleasant memories that she will hold dear with the commencement of her final chapter as a Cavalier.