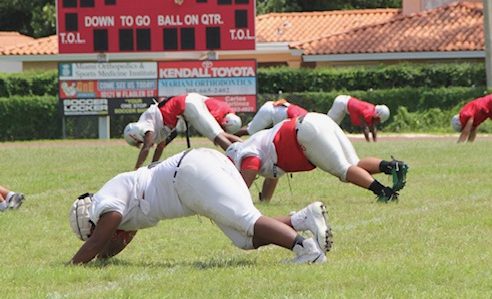 As sunshine penetrates the field, the Coral Gables Senior High's football team fastens their straps and prepares for a brand new season. Sixty years after the Cavaliers won their first state title, the team aims to work hard and master the South Florida heat before the games kick into action. 
"Bottom line, we just try to get better and better every year… Hopefully we get seven, eight or nine wins. Maybe even 10," head varsity coach Frank Welsh said.
Following a 5-4 record in 2022, the varsity football team attempts to reproduce the positive aspects of their previous season. Last season, the team opened with three wins in a row against American Senior High, Miami Coral Park Senior High and G. Holmes Braddock Senior High.
"Well last season was pretty nice taking into account how we bounced back from our previous season of the 2021-2022 school year with an overall score of  1-6, to going into a good amount of wins. It was definitely a nice experience and a good step towards the right direction," junior Evan Noval said.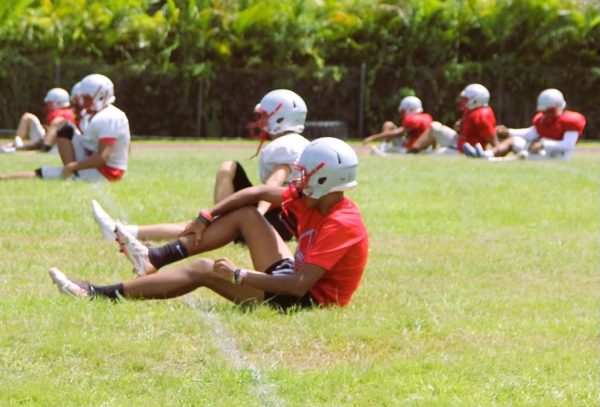 Unlike other student-athlete groups, Cavalier football trains all summer long, hosting practices every Monday through Friday as of June 20. This season, the Florida High School Association's guidelines for outdoor sports have altered practices to deal with heat.
"Summer practice has definitely been hard with the really hot weather. However, the team is trying their hardest to do the best work that they possibly can. We have really been working with route running and special teams…I have high hopes that this team has a good chance at winning division this year," freshman Jake Segovia said.
The early morning practices were given by assistant coach Alton Strachan inside the weight room. Most days, players rotated between upper body and core exercises to lower body drills. Specifically the linebackers and offensive line focused on strength with squats and Romanian dead lifts. Other speed positions like wide receivers lifted dumbbells and the barbell.
As school begins, the Cavaliers will be on the field at 3:30 p.m. Every player will dress in the locker room, soon after reporting to 100-yard field. Afternoon practice will start with stretches and dynamic movements. The varsity players then split up into their position groups, practicing tackling and other special teams drills to ensure the eleven players on the field are communicating.  
"As a quarterback, I practice specific game situations, such as two-minute drills, red zone scenarios, and different down-and-distance scenarios. This helps me prepare for various critical moments in games," senior Andreus Rios said.
The season's inauguration begins on Aug 25., marked by a riveting showdown against American Senior High School, an eagerly anticipated rematch from last year. After opening with a victory last year, they intend to come out and succeed once again. 
Coral Gables vs. American
It's Game Time!