Girls Basketball Senior Night: A Final Goodbye to 2023 Athletes
The Class of 2023 girls basketball senior night called for a combination of applause, tears and photos on the court. Waving goodbye to the crowd, Cavalier basketball's senior girls had an opportunity to remember long hours of practice with their last game under the Coral Gables Senior High lights on Jan. 12. It was an emotional farewell as Gables soundly defeated the Barbara Goleman Gators by a tally of 48 to 8. 
Prior to the opening tip-off, families piled in to support their senior girls on Jan. 12. Pom poms were held high, ready for players to burst through the tunnel of balloons. Cavaliers supported the girls as they commenced warmups.
"I [was] super excited for senior night, for the opportunity to play one last time on our home court and to celebrate it alongside family, friends and my team members," senior Melanie Garcia said.
At 5 p.m., whistles blew and players immediately hustled to their sides. The Cavaliers scored in the last 2 minutes of the first quarter, led by senior guard Isabella Morales, exciting the crowd.  Tied 4-4 heading into the second quarter, Gables' aggressive mindset helped the team emerge with an 11-5 lead nearing halftime. 
"
I will miss just being around my team and coaches. There comes a time where you just become comfortable and adjusted to a team, so leaving will definitely be a change…Playing on varsity has been a great experience. You're alongside like-minded players who want to stay focused and succeed,
— senior Isabella Morales
Within the last 51 seconds, three-pointers were flying left and right from Morales. As if to the stands, senior point guard Audrey Simon sank a last-second three-pointer to end the first half. The Lady Cavaliers held a substantial lead of 26 to 6. 
"This was our last hoorah which is very sad but it was also very exciting. I have learned the importance of teamwork and that when we work together something magical happens," senior Audrey Simon said. 
Determined to taste victory, Lady Cavaliers basketball echoed "Cavs in the house" as they returned to the scene. From the opening tip-off, Gables' team chemistry, along with strong defense, was evident. Whenever the Gators attempted a shot, the Cavaliers hustled to rebounds and defended the backcourt. 
The closing minutes made for a bittersweet occasion for the seniors on the team. Senior Gloria Arce executed a layup to ice the game. Cavalier pride exploded for the senior girls when the clock hit zero.
Following the matchup, seniors were given their crowns, sashes, flowers and posters. Principal Ullivari presented each girl as they strolled down the gym, families by their side. One final roar erupted for the graduating seniors of Lady Cavaliers basketball. 
"To this years seniors, thank you for all your hard work and dedication. Every single one of you have been such an integral part of our team. You four have worked hard in every game and practice," Principal Ullivari said. 
Torches were passed along to underclassmen after the 48 to 8 triumph for varsity girls basketball. The Lady Cavaliers will square up for an away game on Jan. 19 against the Lourdes Academy Bobcats.
Leave a Comment
Your donation will support the student journalists of Coral Gables Senior High School. Your contribution will help us cover our annual website hosting costs.
About the Contributors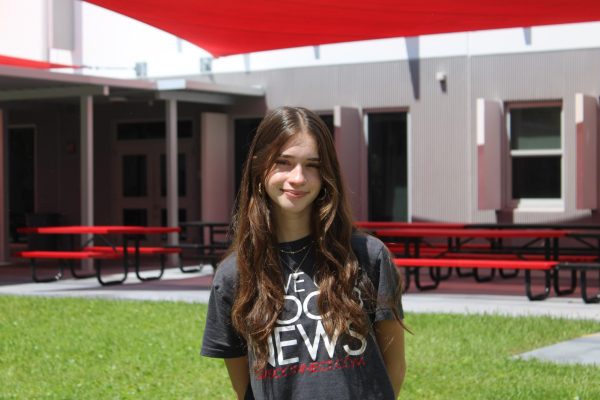 Emma Rivera, CavsConnect Staff Writer
Emma Rivera aims to make the most of her junior year. Rivera joined Gables as part of the Academy of Finance due to her interest in business. Fascinated...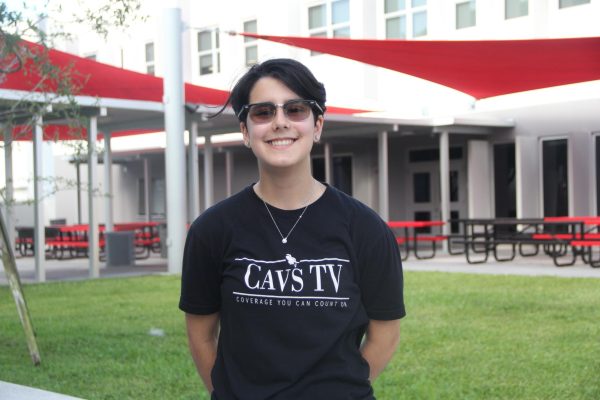 Gaby Blanco, CavsTV Photography Editor
Gaby Blanco is a senior in the DEH academy at Gables. Being Gaby's third year as the photography editor of CavsTV, she hopes to round off her year by...