Gables Cross Country Takes on the King of the Hill Invitational
After twenty minutes of pain —sweat streaming, hearts pounding— athletes run their hearts out to the finish line. This is what cross country is all about. On Friday, Sept. 2, the Coral Gables Senior High cross country team made its debut for the 2022-2023 season at Tropical Park.
Known to be one of the largest, most competitive races, the King of the Hill Invitational meet was described by Coach Nelson as a "gut-tester". With an elevation of nearly 30 feet, runners would have to face their fears and make their way past the most daunting aspect of the course. Additionally, they had to face off against more than 180 other runners.
"The King of the Hill race was a very different race than any others I have done. It was one of the biggest races I have ever ran in with over 20 schools, and it was at Tropical Park which is one of the hardest 5k courses in Miami. And, with that many people on such a narrow and challenging course it was definitely one of the hardest races I have ran up to this point," junior Anthony Fotso said.

"
[I am] just very happy with the results. So impressed with what they've been able to do, because it is hot and for them to even be able to run this race is amazing,
— Coach Nelson
Leading up to race day, the team displayed its school pride by wearing personalized cross-country team gear. Departing on the bus at around 1 p.m., competitors had the choice to either relax or keep up with their academic responsibilities during the trip.
To warm up for the first race of the afternoon, junior varsity boys trotted to the starting line alongside more than ten schools. Kicking off at 4:20 p.m., the JV runners were able to surpass the hill with encouragement from coaches and teammates. 
Just half an hour later, nine runners representing girls varsity lined up at the starting line. Tackling their mental and physical challenges, the girls earned a split of 24 minutes and 11 seconds, tying them for sixth place with Ransom Everglades. Leading the pack was senior Isabella Morales with a time of 22 minutes and 18 seconds, her personal record.
A similar result for the boys, junior Anthony Fotso finished with a time of 19 minutes and 36 seconds trailed only by freshman Jason Norona. Overall, the Cavaliers pressed on and were accompanied by support from parents and teammates.
"The King of the Hill race was an amazing experience. Everything, all the way from start to finish was exhilarating. I am looking forward to running more races and doing the best I can," freshman Yara Korse said.
Leading up to the race, the team began their preseason work on Aug. 1, working through harsh weather conditions while completing runs anywhere from 3 to 6 miles. Glancing at the schedule, both Coach Nelson and Coach Fotso, thought it best to host practices from 2:45 p.m. to 4:30 p.m. in order to build stamina and heat resistance amongst their runners.
Dashing by opposing teams, Gables' varsity cross country has re-introduced Saturday practices into the weekly mix. Taking minimal days off, these Cavaliers meet at Cocoplum Circle or David T. Kennedy Park to increase their mileage and lower body strength.
"To get to our end of the season goal we have to put in the work, and Saturday training does exactly that. We run more distance and harder than during the week, so it is super important for us to do them," freshman Luis Rodriguez said.
On the verge of a thrilling season, the first cross country meet serves as an example of what is to come in the remaining months. While these Cavaliers are focused on heading to states together, these victory-hungry Cavaliers are ready to do what it takes to win.
Leave a Comment
Your donation will support the student journalists of Coral Gables Senior High School. Your contribution will help us cover our annual website hosting costs.
About the Contributor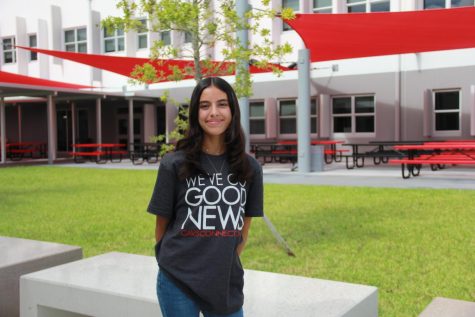 Avril Donner, CavsConnect Staff Writer
Avril Donner, a freshman in the International Baccalaureate program, is pumped to start her first year in CavsConnect as a staff writer. She strives to...