Gables Soccer Team Making a Comeback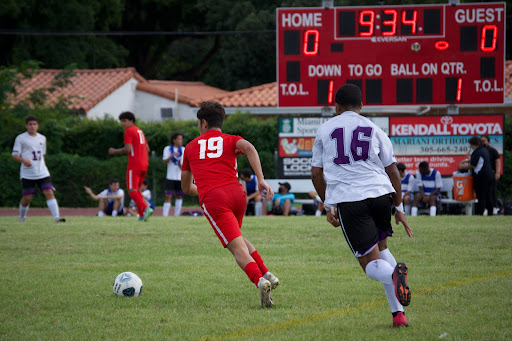 The boys soccer pre-season has started strong with back-to-back victories against South Dade Senior High School and South West High School. As the team moves closer to playing accredited matches when the winter season officially begins, anxiety is growing as players prepare for their first game on Nov. 9 against Killian Senior High School.
In their first meeting against South Dade, the boys won with a scoreline of five to one. Senior Etienne Montigny, who has been on the team for four years, scored a hat-trick— when a player scores three goals in a single game — giving the team the momentum to create more opportunities to attack and score goals.
The other two goals were scored by senior player Dany Guzman and junior Jesus Sandoval. Through various plays, the boys were able to work together to allow them to score the goals needed to win the games.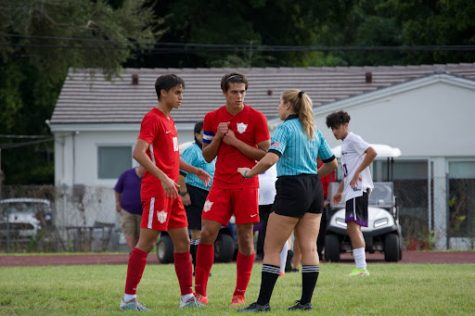 "We played well, we were able to hold the ball and everyone got a chance to play. It was nice to see that everyone was given an opportunity to adapt to their role on the pitch and I'm excited to see how they develop throughout the season," senior Eden Sobalvarro said.
In their next game against South West, the Coral Gables Senior High team was able to beat them three to zero. While during the first half of the game the team started off slow mainly demonstrating the defense's power, during the second half, the flow of the match shifted and the team was able to secure another victory.
"In the first half we were struggling to score our chances, but in the second half, we were able to change that. After a motivational talk with our Coach, our spirits were lifted and we played much better as a team," senior Eden Sobalvarro said.
Guzman scored two goals against South West and sophomore player Jordan Bueso scored one giving their team another victory for the pre-season.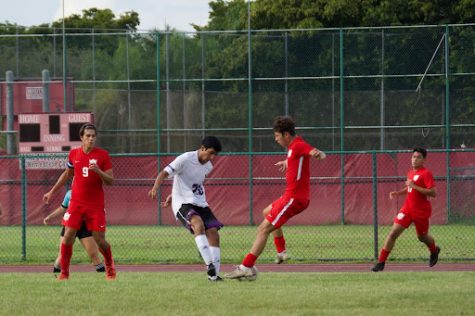 While training, the team runs drills that will help them develop plays during the game and strengthen their team chemistry. In practices before matches, Coach Fotso goes over the game plan to refresh the players on how he intends them to play and work together on the field.
"Everyone looks very confident in the way that they are playing and I like how the team is performing on the pitch. We have a lot of chemistry with each other and the new players are adapting very well," senior Etienne Montigny said.
With these two victories and the pre-season behind them, the question now is if they will be able to continue this winning streak into the actual season. With games quickly approaching on Nov. 9 and 15, the athletes are preparing to keep moving ahead and hopefully go on to play in larger tournaments.