Gables Golf Gets Back Into the Swing of Things
The Cavalier golf team has had their chance to go all out for this year's season, setting high standards for themselves as they begin their training. Despite the challenge of the COVID-19 pandemic, the golf team still managed to make it to Districts even though Regionals were canceled.
Practices for the 2021-2022 season began in the middle of August and are held Tuesday through Thursday after school at Melreese Golf Course. Coach Nelson Villegas guides the students and ensures that they cover different skills each time they meet.
The team holds multiple sessions at each practice, either working on their long shots, putts or chipping. Their goal is improving accuracy, getting the ball as close to the hole as possible to maximize the players' opportunity to score in fewer shots. For this reason, Coach Villegas stresses drills like chipping and putting which specifically help develop accuracy.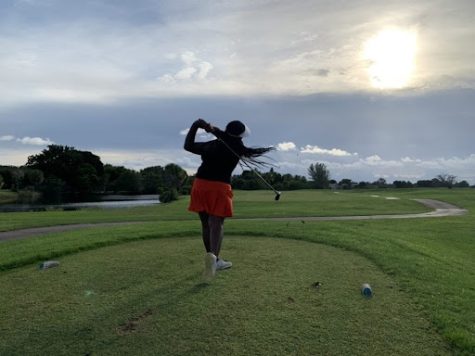 "To be as good as it can be, a team has to buy into what we are out here doing and working on. The whole purpose of practicing is to master those failures to the point they are no longer failures and you turn them into successes. It takes a lot of work. It takes a lot of dedication. Our golf team has some raw talent and a lot of potential. They just need to trust the process and keep working hard," Coach Nelson Villegas said.
Because golf is a sport that revolves around the individual talent of a player, Coach Villegas often shares his personal experience and insight, giving his players advice on how to achieve self-improvement on and off the course.
Cavaliers on the team also encourage each other to be the best version of themselves. Although golf is a more independent sport, the more experienced team members still aid the newer players and teamwork during practice helps keep Cavalier spirits up.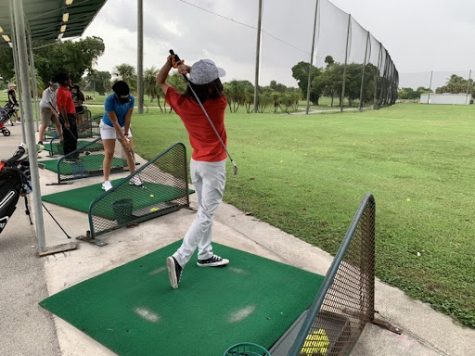 "Golf is more of an individual-based sport but we can help each other when practicing. For example, working on the same shots together and giving each other feedback on ways to improve," senior Kaylah Clethen said.
The athletes have individual goals set this season, such as breaking 50 on nine holes, or even larger aspirations for the senior players such as playing golf at the collegiate level. Although everyone has their own aims, the entire team has their eyes on the bigger picture: getting back to districts and making it to regional competitions and possibly even reaching state competitions.
"My goals this year are to break 60 on 18 holes, and to play for a collegiate golf team next fall," senior Thais Forbes said.
On Sept. 2, the Gables golf team had a match scheduled at the Palmetto Golf Course. It was suspended midway through the match due to bad weather, which has been a recurring obstacle as the team also had another match canceled on Sept. 9.
The team is waiting to get back on the green in their next match against Maritime and Science Technology Academy at Crandon Golf Course on Sept. 15. They hope their upcoming match can be used as a way to get back into the rhythm of things as they prepare for bigger competitions like the Greater Miami Athletic Conference and district tournaments.
The Cavaliers have a full plate on their hands with the upcoming schedule. Their hard work will be put to the test in matches to come. It is up to the Cavaliers to perform.