Professional Sport Leagues Respond to Jacob Blake Shooting
Jacob Blake was a "selfless, family guy," a member of the Evanston High School wrestling team who always put his children first. Blake was breaking up a fight between two women, in which a witness called the police and called in a "domestic incident." Kenosha police arrived at the scene as Blake opened the door to his SUV, which seated his three children. As Blake was leaning into the car, police shot him seven times in the back.
Following the release of the extremely controversial video, the Kenosha PD launched an investigation that confirmed Blake was not carrying a weapon and was only breaking up a fight. Doctors announced Blake is currently paralyzed from the waist down after multiple bullets pierced Blake's spinal cord. Subsequently, masses of protests began in Kenosha that ended with damage to police vehicles, a car dealership and a courthouse.
"I believe there is a lot of misinformation going around on what happened to Jacob Blake, however, this should not take away from the fact that Black people are targeted as there are common misconceptions that dwell inside cops and lead them to feel endangered," sophomore Edglhys Lopez said.
The Milwaukee Bucks began the most notable form of protest, which set off a chain reaction as other teams followed in their example. On Aug. 26, a playoff game between the Milwaukee Bucks and Orlando Magic was scheduled. However, neither team stepped on the court to protest Blake's shooting. A few hours later, other teams such as the Houston Rockets and the Los Angeles Lakers and their opponents would also not be stepping on the court in solidarity to Blake and his death.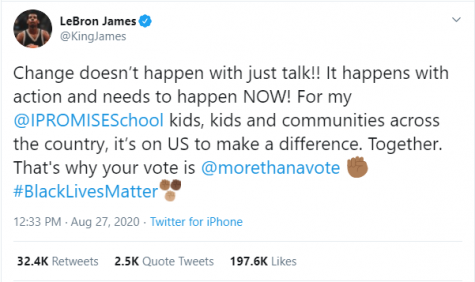 The protests caused the National Basketball Association administration to postpone all games, including the Women's National Basketball Association games as they gave the National Basketball Players Association a few days to decide how they wanted to handle the situation. Soon, multiple teams from different sport leagues, such as Major League Baseball, had players protesting and refusing to play their games to pay respect.
"It is an effective act of civil disobedience to protest racial inequality," sophomore Tyler Toribio said.
Kenny Smith, a co-host on the "Inside The NBA" talk-show also walked off saying, "as a black man, as a former player, I think it is best for me to support the players and just not be here tonight." Smith unexpectedly walked off in order to show his support, saying that he knows what the players are going through and how they are feeling.
On Aug. 28, all involved officers were placed on administrative leave and the Wisconsin Department of Justice's Division of Criminal Investigation claimed the shooting as "riddled with incomplete information." Despite hearing such tragic news, it is always comforting to know that athletes with power will do whatever they can to make sure victims obtain their justice from wrongdoings. Whether it is forfeiting their paycheck by protesting their games or even simply speaking on it, people will listen and watch them attempt to do the right thing.