Will Fall Sports Be a Dream or Reality?
As the 2020-2021 school year approaches Miami-Dade county officially plans to open schools virtually, which raises several concerns and issues for high school athletes. This could potentially keep student athletes from receiving a college scholarship or affect their chances of making it to a professional league after high school. However, even in light of the Covid-19 pandemic, Coral Gables Senior High School athletes cannot be stopped from getting their summer conditioning done and preparing for their sport.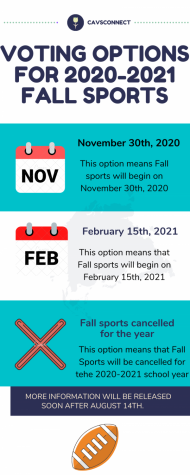 "Soccer is a sport you have to keep practicing, not only to perfect your technique, but to keep yourself in top shape. I have been playing soccer to maintain endurance and going to the gym to build strength to prepare for the upcoming season," junior Eden Sobalvarro said.
Gables prides itself on having many diverse sports for every season, including the fall sports of football, cross country, swimming, girl's volleyball, bowling and golf. As the beginning of the school year approaches, it seems that the fall season is going to be most impacted by the shift to online schooling.
High school sports are highly unlikely to resume in the fall due to the public school system's compliance with the guidelines put forth by the Center for Disease Control and Prevention's. These guidelines suggest that each person maintains a six-foot distance from others at all times, making  sports, even "individual" sports such as golf, nearly impossible to be practiced safely. This could affect senior athletes who hope to obtain scholarships from their sport after dedicating hundreds of hours to their craft.
Despite the uncertainty of this upcoming year, several members of these school teams still used the summer as an opportunity to enhance and increase their skills for the upcoming school year.
"For swimming, we do dry land on a google call. Dry land means working out outside the water. Right now, I am focusing more on my technique and endurance since I've been out of the water for so long," senior Stephanie Monroy said.
Miami-Dade County is planning on taking a vote next Friday, Aug. 14, to determine whether falls sports should start up on Nov. 30, Feb. 15 or be cancelled entirely for the 2020-2021 school year. These voting options will  affect student athletes participating in one of Gables' Fall sports, especially incoming seniors hoping to finish their high school career strong.
More information will follow the fate of fall sports as Miami-Dade votes to decide how to handle it on Aug. 14. The Gables community hopes for the quick return of sports, not only for themselves but for the student athletes that have prepared themselves tirelessly for this year's season.