Time for Tempo!
As you may know, the Coral Gables Senior High School soccer teams practice and play on the school's field. However, they are not the only soccer teams that enjoy the privilege of using that field. A team called Miami Tempo also has access to the school's field and uses it to practice and develop young women who play soccer.
You may know Justin and Eddie Aguirre as the amazing coaches of the Lady Cavalier Soccer teams, but they are much more than that. They are responsible for Miami Tempo, the club team they own outside of school.
"
We want to not just be a soccer club, but a lifestyle that inspires young ladies all over Miami."
— soccer coach Justin Aguirre
The Miami Tempo is a fairly new team, having been recently established in 2017. 'Tempo"stands for Togetherness, Expression, Movement, Possession, and Originality. Usually, the term 'tempo' means how fast or slow a piece of music should be played.
"We believe that there is a tempo to soccer and a tempo to life," soccer coach Justin Aguirre said.
Coach Justin likes to make a positive and strong environment for his girls to play in. His goal is to make soccer a comfortable lifestyle for the players.
Playing for the Lady Cavalier Soccer team is a great opportunity to experience the sport. Moreover, playing for Tempo also allows girls to gain a more profound experience in the game of soccer.
"Tempo has helped me figure out the meaning of development and improvement. It has now been a whole soccer season and we've all matured physically and mentally as a team," freshman Mariana Gutierrez said.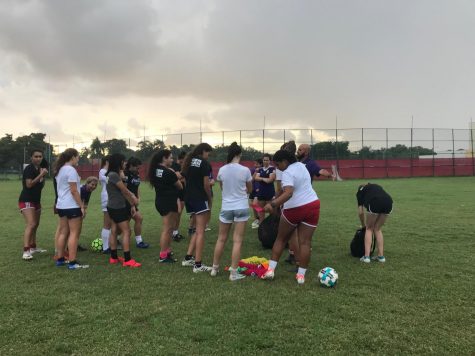 The Miami Tempo is currently divided up into teams for girls in different age groups. The divisions are: the 2004 (U16) team for girls born in 2004 under 16 years of age, the 2003 (U17) team for girls born in 2003 under 17 years of age and the 2002 (U18) team for girls born in 2002 under 18 years of age.
You can keep track of the Miami Tempo and their schedule through their Instagram account, which they call "The Tempogram". The instagram account keeps their audience updated on their weekly games and practices. Coach Justin and the team interact with many special guests who are inspirational to the soccer players.
Even though Miami Tempo is still a relatively new team, it is seemingly on the rise, gaining popularity every year since it was established. Tempo is a fun and relaxing soccer club that offers a positive and supportive environment for their players. Thanks to coaches Justin and Eddie, so many girls have been inspired and have been given the opportunity to take their passion for soccer even further. If you would like to learn more about the Miami Tempo soccer club and the amazing girls that play for them, be sure to check out their team website!