Cavalier Winter Sports in Review
After an eventful few months, the winter sports' seasons are finally coming to a close. Some teams have already turned in their uniforms, focusing their attention on spring sports or academics, while others continue to compete in post-season tournaments. Several of the Coral Gables High School winter sports teams have seen tremendous success this school year, qualifying for District, Regional and even State championships while continuing to improve their teamwork and level of play.
Boys Basketball
The Cavalier Basketball team has led the most successful season of any of our school's winter sports teams. After ending the regular season with a 10-4-0 record, they advanced to Districts where they defeated their tough competitor and qualified for the State Championship semi-final. This game will be played on Feb. 21 against Killian High School.
During the regular season, Killian lost to Coral Gables in a low-scoring 28-14 game, but there is no guarantee that the upcoming match will be a secured win for the Cavaliers. The Gables team continues to practice hard in hopes of defeating their opponents on Thursday and matching up against one of the other top eight high school teams in Florida for a chance at the state title.
Girls Basketball
The Lady Cavaliers' Basketball season was filled with closely-matched games that pushed the team to improve their technical skills and teamwork. They pulled off a victory over Southwest, a notoriously tough opponent, early in the season. They also continued their long-time rivalry against Lourdes and Ferguson High School, losing to both, but by noticeably small margins.
"I find that those two teams are our rivals since we consistently lose to them.. but I can tell our team is improving because the score was much closer this season," sophomore Madeline Cohen said.
By the conclusion of the official season, the team's impressive 13-8-0 record allowed them to advance into the Miami-Dade County district semifinals as the fourth seed. Their season was cut short by a loss to Lourdes in the district semi-final match, but the team remains satisfied with their ability to overcome communication issues on the court and make it to post-season competitions.
"
The highlight of the season for me was when we beat Southwest, since they are a team we are always so competitive with."
— sophomore Madeline Cohen
Boys Soccer
The Cavalier Boys soccer team led a victorious season, ending with a remarkable 10 wins, 4 losses and 4 ties. Despite having to adapt to the loss of their starting goalkeeper, who was injured at the beginning of the season, they triumphed over the competition and easily qualified for the District Cup. After a tight match in the district semifinals, they pulled off a win with 16 seconds on the clock due to a strategically placed ball assisted by Kade Marriott and scored by Kevin Espinoza.  They advanced to district finals at Columbus High School, where they took second to the home team in a close 2-1 game.  The Cavaliers also sadly lost their regional semifinal game to Varela High School with a score of 2-4, which officially ended the 2018-2019 season. Despite the loss, the season was not unsuccessful. The team was able to secure season wins against old rivals like Columbus and Miami High, as well as incorporate a number of underclassmen into the lineup to ensure experienced players are available to represent the school next season.
Girls Soccer
The lengthy Lady Cavalier Soccer season finally came to a close on February 5 in a regional semi-final game against Coral Reef High School. After placing second in districts, the team met their match in a decisive 7-1 loss that knocked them out of the regional playoffs. However, the disappointing loss does not define the season – the team has improved greatly over several weeks as the new players learned to cooperate and work together on the field.
With an unusual amount of underclassmen, the girls' soccer team pulled off several wins against teams like Miami High, North Miami, South Miami and Ronald Reagan High, despite struggling against old rivals. The balanced season resulted in a 7-7-2 record which qualified them for District Cup as well as GMACs.
Wrestling
The Cavalier wrestling team faced its fair share of challenges this year, having to adjust to several athletes dropping the sport halfway through the season. However, this did not deter them from success. After a long and strenuous season, several wrestlers have qualified for district playoffs, which will take place later this week.
The training to prepare for this competition is intense and the athletes practice every day after school for over three hours in hopes of winning their district matches and advancing to regional championships on March 2. Regardless of how these tournaments unfold, the team continues to work on team-building and recruiting for the 2019-2020 school year.
"My hope is that the program will continue to grow and we will bring in a lot of freshman and sophomores to start building a strong foundation for the team," senior Douglas Ponce said.
---
Evidently, many of our Cavalier athletes showed off their athletic abilities this season with some impressive personal achievements and playoff runs of various lengths. With team-building and recruitment, they are sure to come back even stronger next year and make Coral Gables High School proud again!
About the Photographer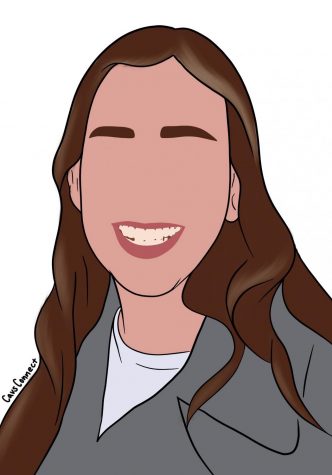 Chase Bagnall-Koger, CavsConnect Co-Editor-in-Chief
Chase Bagnall-Koger is a Senior in the International Baccalaureate (IB) program who is excited to be returning to CavsConnect for her fourth year with...