Cross Country: Much More Than a Sprint
The Coral Gables Cross Country team has hit the ground running this year and is already excelling in one of Gables's most physically challenging sports. With intense training that occurs five to six times a week, it is no surprise that the team has been building up their stamina and improving their race times.
The second cross country meet of the season took place at Larry & Penny Park on Friday, Aug. 31. The Coral Gables Cross Country team competed against a variety of high school from across the county, including Coral Reef, Mast, South Miami, Belen, Gulliver and Coral Park. Despite the warm and humid weather, Gables persevered and was very successful under the unfavorable conditions. Although few runners set personal records for themselves, several did, however, have strong performances. On the girls' side, sophomore Karina Leon had the fastest run on the team for the 5000-meter race with a stunning time of 24 minutes and 6 seconds. Colin Wilson, Gables's highest placing runner, ranked 11th overall in the 5000-meter race with a time of 17 minutes and 22 seconds.
"I think we all did really well as individuals and as a team. We have been working really hard in practice and improving our times," junior Violeta Alonso said.
As Alonso mentions, these results come from putting in the maximum effort during rigorous practices every day. The team practices Monday through Friday after school, usually adding a Saturday morning run to their weekly routine. A typical practice might consist of a warm-up run around the school, followed by a three to four mile workout and a one-mile cool-down. On a difficult day, the team runs the six-mile distance to and from the University of Miami and around the campus.
"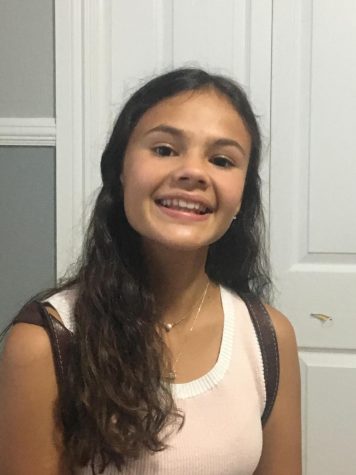 Cross country is such a hard sport and it is a lot of work, but I love to compete. It always feels so good to know that you gave your all at a competition and improved your time.
— sophomore Karina Leon
Later on in the season, members of the Coral Gables Cross Country team hope to go to Jacksonville to enter the annual Florida High School Cross Country State Championships, where they competed last year after dominating the district and regional championships. They also aim to break their personal records and shave precious seconds off their racing times.
"Some of my goals for the season are to beat my personal best time of 22:45 by at least two minutes. I want to be able to run the 5k in under 21 minutes and go to states with my team at the end of the season," sophomore Karina Leon said.
Despite the obvious challenges and significant time commitment, the Coral Gables Cross Country team takes pride in what they do at practice, taking it with them when they have to perform at a meet. Their success and dedication to their sport will continue to be a source of Cavalier pride throughout the season. As the season's events continue to unfold, be sure to wish the Coral Gables Cross Country team luck and congratulate them on their success at meets!