A Bitter End to a Magnificent Season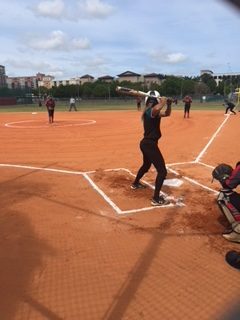 Last Friday, May 11 at 4:00 p.m., the Coral Gables Lady Cavaliers Softball team went head-to-head against Coral Reef Senior High School in a high-stakes game that would ultimately allow the triumphant team to vie for a state championship. The battle between the two rival teams was undeniably close, resulting in a 4-3 final score at the expense of the marvelous season played by the Lady Cavs, in which they won their fifth district title in as many years. Nevertheless, the Gables softball team displayed a resilient performance that was encouraging and promising, despite the disappointing loss.
The starting pitcher for the Lady Cavs was Angelina Bonilla, a Coral Gables Senior High Athlete of the Week who has displayed an exceptional amount of discipline, growth and skill at the plate and at the mound this season. In the opening frame of the game, the Lady Cavaliers had a rough start, allowing 2 runs to score after a few defensive miscues occurred. When the offensive push made by Coral Reef had concluded, the Lady Cavs, despite not scoring until the second inning on an RBI single, played aggressively on the base paths and patient at the plate.
With the momentum on the side of Gables, some relief was provided to Bonilla at the mound as she continued throwing fireballs at her opponents, ultimately racking up 7 strikeouts over the 7-inning entirety of the game. However, the potent offense of Coral Reef continued piercing through the defense, leading by a score of 4-1 in the fourth inning.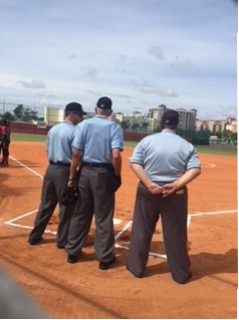 Not long afterward, the Lady Cavs retaliated their opposition's offensive efforts by countering with one of their own, accumulating 3 hits in the game and drawing the game to a closer score of 4-3.
"I think the resiliency of this team as a whole was amazing to watch. They may have lost, but they really held their own against a team that was equally as good as them," sophomore Ayelen Escaurido said.
The offensive rally ended with the score at 4-3, and it would remain permanent through the final three innings of the game. Although the Lady Cavs made several attempts to penetrate Reef's pitching and defense, they couldn't muster any further runs and left several runners stranded on the bases in the innings that followed.
"They came so close so many times. The crowd was getting antsy nearly every inning as the Lady Cavs put two or three baserunners on every inning. They just couldn't convert," sophomore Eduardo Caldera said.
With the loss against Coral Reef, Reef advances to state championships and Gables is eliminated from any further play throughout the remainder of the 2018 softball season. While the season may have ended contrary to what hopes wished for, be sure to congratulate the softball team for their well-fought matchup and another remarkable season!