Cavalier Softball Wins Yet Another District Championship
The Coral Gables High School girls' softball team recently won their fifth district championship in a row with a decisive 11-0 victory over Coral Park High School.
"I think the skills and talents of the girls on our team are just more experienced and better prepared than the other teams in our district," head softball coach Natalie de la Vega said.
Their successful record at the conclusion of the regular season allowed them to enter the district quarterfinals. After beating their rivals in both the quarter and semifinals, the team advanced to play one last game against Coral Park High School. The result was yet another district title for the Cavalier athletes.
"We practiced really hard in the week leading up to the game. We have a lot of experience playing softball," sophomore Sydney Pell said.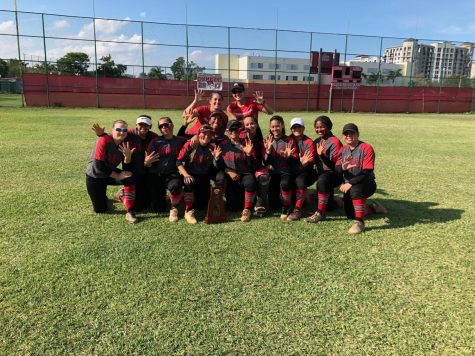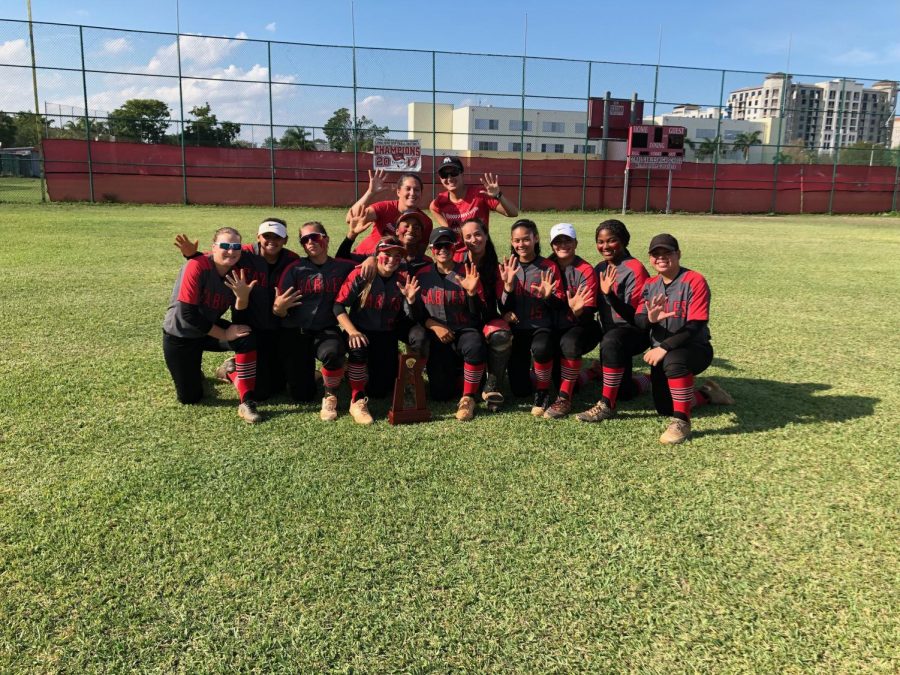 To attain that level of preparation, the team has consistently practiced six days a week throughout the regular season. Every day after school, the players gave up their afternoons to improve their speed and agility as well as practice possible game scenarios. The team has also participated in tournaments leading up to their post-season games.
"We went on a tournament to Kissimmee and we were there for a few days. It was really fun and helped us prepare for future games," sophomore Angelina Bonilla said.
Their victory at the district level means the CGHS softball team will face even tougher competition in their upcoming regional games, beginning with their regional quarterfinal game against Hialeah High School on May 2.
"I expect to take regional quarterfinals pretty easily and I would expect difficult competition come semifinals," Coach de la Vega said.
If they are successful in the regional quarterfinals, as Coach de la Vega predicts, the CGHS softball team will move on to play in the regional semifinals on May 8 and hopefully in the regional finals later in the month. Good luck to all of our Lady Cavalier softball players and congratulations on winning your fifth straight district title!